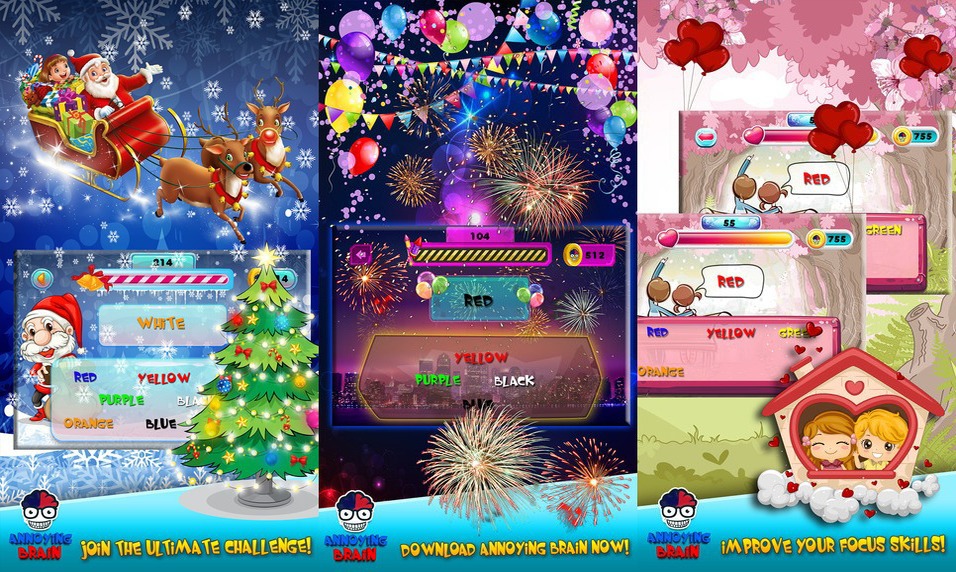 There is no shortage of brain teaser apps in the App Store and Play Store. Most of them are really entertaining, educating, and improves multiple areas of the mind. Annoying Brain could safely be considered as a solid brain teaser and puzzle app, which is underscored by its simplicity and no-nonsense gameplay.
The mechanics of Annoying Brain is very straightforward the moment you attempt one playthrough. You have to tap as quick as possible the color of the word that appears on the central frame. Pay close attention, though, because the words are actually colors themselves, albeit written in print. Much of the confusing aspect of the game is attributed to the said mechanics. And what makes things harder is the fact that you only have a few seconds to tap the correct answer, and multiple words begin to pop up as your streak lengthens making the game more difficult. Each time you answer questions correctly, you would be rewarded with in-game credits (AB Coins), and you can set a high score in the process.
Annoying Brain is an app that capitalizes on the Stroop effect. It's basically a psychological concept that has demonstrated the brain's difficulty to process color words depicted in print that do not match what they depict. But, of course, the game also includes a timer that only serves to make it more challenging for players. In fact, the two go extremely well together as they serve to train one's reflexes (because of the time element involved), concentration, and even problem-solving skills.
The app also showcases a plethora of exquisite theme designs. The default theme is Las Vegas and features famous tropes of the said city. Other themes that can be bought from the Shop include Christmas, Valentine's Day, New Year, and Winter. You can use either AB coins or real money to make these one-time purchases.
If you don't get a high score, fret not, because it's basically a phenomenon that is prevalent in all of us. With practice and focus, though, it won't take time for you to get the hang of the game. If it's going to be set next to other brain trainer apps available at present, much of what makes Annoying Brain unique is not so much its gameplay as its overall themes and high-definition graphics. The incremental rise in difficulty as you progress in a single playthrough, complemented by the time pressure, is undoubtedly a defining factor as well.
To conclude, this app is certainly one that would test your concentration and patience. It also gauges how well you handle time-pressured situations. One thing's for certain, no matter how "annoying" this app gets because of a high score that you can't beat, anyone can get hooked to it pretty fast due its educational value, as it can undoubtedly train your mind with long-term use.
Price: Free