Akshara is a basic alphabet learning game designed for kids aged between 2-5. The app lets the kids to learn as well as get them engaged into the alphabet based game. A very simple app for kids to learn and memorize apps using the iPhone, but does it really worth the price? Lets have a look at it.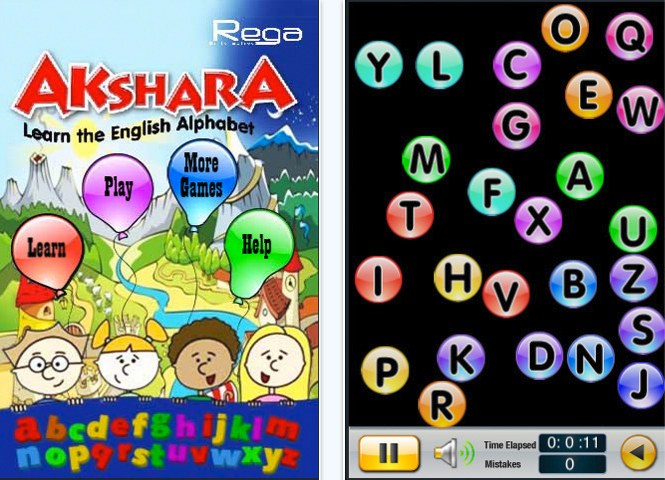 rel="nofollow>
Opening up the app brings you the main menu that contains the necessary buttons to navigate inside the app. Lets discuss about the two options – Learn and Play in details.
Learn mode brings in the set of alphabets, where in touching every single alphabet will pronounce. The pronunciation is doesn't sounds a native English accent, so its quite disappointing at this point. But regarding the clarity of pronunciation its good to go.
Play mode, lets the user to get engaged in an alphabet game. The game is simple though but it certainly helps kids to memorize and figure out the alphabets in the correct order. The scores are calculated based on the number of mistakes and the time taken to compete the whole game. Finally based upon these criteria users receive rank.
At the end, Akshara is a simple e-learning app designed to learn alphabets in a interactive way. To me, the app needs a lot of improvements in spite of its design and the usability of app. If these are taken into consideration during the next update, Akshara is a good e-learning app for the kids.
Cost: $0.99
Rating:3.5/5

rel="nofollow>