Mobile devices represent great systems for gaming, but some genres are simply ideally suited for this option. In this group, the games based on jumping mechanic found in platformer games are one of the best examples and the Air Break app is an adequate proof of this concept. This arcade game was designed for the iPhone, iPad and iPod touch. On these devices, the game performs a spectacular merger of stunning graphics  and a simple but immersive gameplay.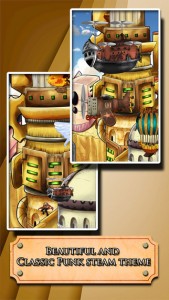 As its basic concept, Air Break represents a jumping game set in a dynamic steampunk world. Here, the players take control of their avatar, a character in a world of flying machines, balloons and other contraptions that make an engaging steampunk world. The objective of the game is to create the highest score by making jumps that are precisely timed, so the obstacles and barriers can be avoided. The game features an instadeath (instant death) system, meaning that the player's character lasts only for one single life which ends after even the slightest contact with the outside environment. While demanding, this system presents itself as a great motivator once the gameplay begins, forcing the players to be focused on their changes of course that take place after the character becomes airborne.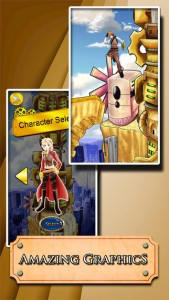 The game provides its essential gameplay in a very intuitive manner, but also enriches it with a strong set of features. Firstly, the game utilizes the feature of simple controls, making the learning curve of the players exceedingly short. In just a few minutes, all will learn how to move their character in-flight. The feature content that is safe for all age groups makes the game completely free of violence and other inappropriate elements, which is why both young and old, can enjoy it. The feature of social integration makes social network sharing the game's content easily accessible so that all those with a competitive edge can find out if they can beat their friends in Air Break. Finally, from a practical side, the feature of a compact download and small file size makes the game very easy on the device's operating system.
The thing which makes Air Break distinctive from any otherjumping game is its graphics. Designed to be similar to the Japanese manga style, the visuals of the game are simply stunning and on the level of classic animated films like the Howl's Moving Castle by Hayao Miyazaki. Here, the strong steampunk theme can shine to its fullest potential and this will impress anyone who tries the game, especially having in mind that it is completely free.
With a gorgeous graphics and a simple, intuitive way of playing it, the Air Break app is a type of game that can be quickly learned and enjoyed by practically all ages.
Price: Free