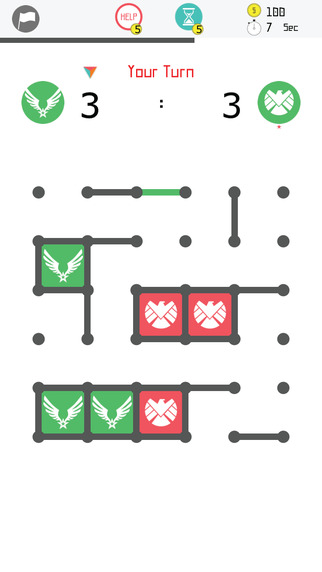 The Dots and Boxes game concept (otherwise known as Pigs and Pens and Paddocks) has been around for more than a century and has been enjoyed by numerous generations through the years. Part of its appeal could possibly be attributed to its simple rules and mechanics. That, plus the fact that it is similar to chess, pitting two people against each other and putting their decisional and tactical skills to the test.
The developers of 4our Dots – Dots and Boxes apparently want to make sure that this classic game is made known to posterity by creating an app that revolves entirely around it. Upon launching the app, if the player is a new user, he will immediately be greeted by a help screen, which provides user-friendly information about the game's mechanics.
Like the paper game, the game starts with an empty grid filled with adjacent dots. Each player is given a 15-second turn to connect two adjacent dots once, horizontally or vertically, using a straight line. The player should make sure to be the last to make the final fourth side of a box, hence completing it, to score a single point. The player wins if he can outscore his opponent once all the boxes have been completed.
The mechanics may seem simple enough, but the strategies and tactics to make sure that you can outscore your opponent in the end requires a good amount of quick thinking and foresight. Quick thinking because you only have 15 seconds to make your move. You can buy extra time or a hint for 5 in-game currencies, though. The said currencies can be earned by defeating your friends or other players from around the globe. If no one is available for a match, you can choose to challenge a robot enemy instead.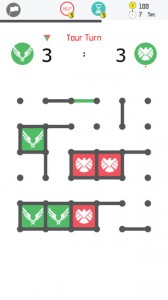 In the game's Settings, you can toggle the game's SFX and music on or off, or choose the difficulty and grid size. Difficulty levels range from Easy, Medium, Hard, and Crazy, while grid sizes can be adjusted to 3×3, 4×4, 5×5, 6×6 sizes. All of these factors add to the game's replayability and the variety of each playthrough.
The additional features that the developers have chosen to add only serve to make this game better. For instance, you can unlock a random emblem, which you can use to personalize every box that you complete, for only 100 in-game credits. Running out of players to challenge and get credits from? No problem! The game gives you free 30 coins just by viewing ads. You can also opt purchase them using real money in the app's Shop and support the game's developers in the process.
Considering the game's general features stated above, 4our Dots – Dots and Boxes is made unique by, one, its amazing online player-versus-player capability, and two, by the rest of its other noteworthy features like the emblems, in-game currency, and outrageously smart A.I. (courtesy of the game's Crazy difficulty). It is also important to note that the game has Apple Watch compatibility, making it a perfect way to pass time easily while on the go.
In conclusion, this game is definitely as addictive as its developers promised it to be. We mean this in a very good way, though. For, unlike a lot of trivial games out there, 4our Dots – Dots and Boxes is guaranteed to give you a good mental exercise without sacrificing your general entertainment.
Price: Free
Rating: 4.6/5