World War RPG shooter games are quite popular among guys with a mission to destroy the enemy flights as much as they can. The app was developed by Treehouse with the idea of creating a 1951 World War back on your iPhone. I simply love the concept itself.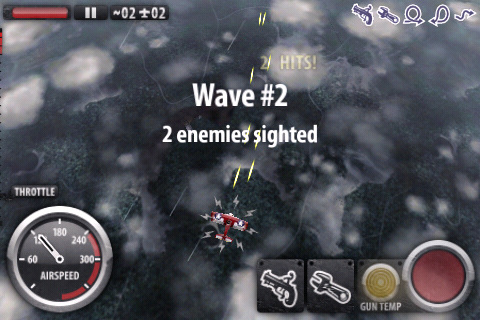 rel="nofollow>
World War One has two game mode Waves and Survival, since I am new to this game I selected Waves, the mode looks a bit different from other games would have. Waves mode get you back to the previous level if you loose a life and its quite interesting to play right from the previous levels rather going back to wave number 1, when you die. The game uses the iPhone's accelerometer to turn and you have a separate throttle button to choose from. The has to be played with passion and unlike other game you don't need any special skills, rather to gain points.
The game works perfect on my iPhone and the accelerometer is just great with this app, I felt like some what turning a fighter plane using my iPhone, well I think I got addicted to the game. The controls are little difficult to operate but after two or three time, you will get used to drive the fighter plane much more easier besides the attacks.
All I have for 1951 – World War One is a retro styled fighter game along with the graphics gives you a wonderful gaming experience on your iPhone.

rel="nofollow>