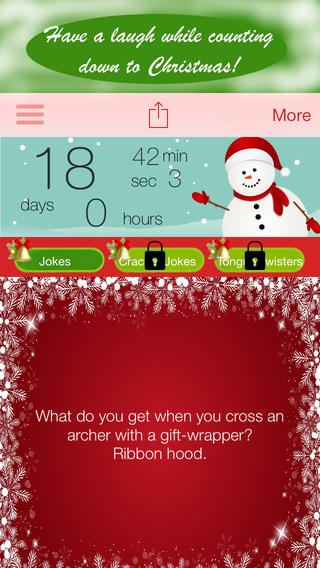 It's that time of the year again when people become overly happy and joyful for no concrete reason. But I guess there is, it's Christmas, the birthday of our beloved Jesus. It is the time of which we commemorate the true essence of being alive, to give thanks to all the blessings that we've had and continue to get, and the strength we hold in order to endure every challenge that comes our way. In return for all these good things in life, we show appreciation by sending each other a smile and like the good old times, exchange gifts with friends, lovers, partners and family. And of course let's not forget the laughs. Without much ado, here's an app that will truly endow the best laughs for the Christmas caroling season: Xmas is Coming Deluxe.
A Box Full of Laughter:
Xmas is coming – deluxe is an app devised for this yuletide season. For we cherish the goodness of the breeze in the air and the soft mellow sounds that we welcome into our ears, it is also good to read and speak out jokes that will truly be an upheaval of the laughing part of us. It is an ad free version that includes all the jokes that you need for a constantly smiling life. And right now, it is currently on a 50 percent discount rate as an introductory offer.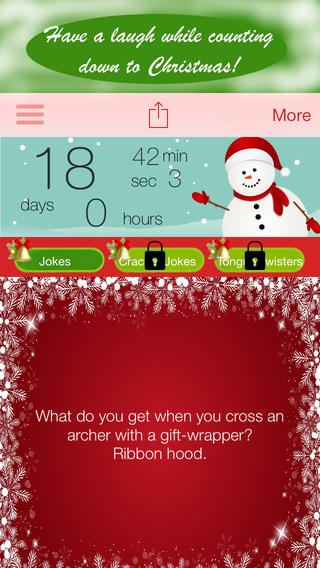 The Features:
1) Xmas is coming – Deluxe is one app that is many things. It is an app, it is a joker, and it is a good companion. It is all the funny things you need for any boring day and to bring about the true spirit of the season.
2) It lets you share jokes in an instant to your Facebook friends, Twitter pals and other social media circles.
3) It lets you read the best jokes at certain point throughout its countdown for Christmas and the coming New Year.-It updates you with the latest funny Christmas related quotes – witty and charming – and not the basic stuff you usually get.
4) Dichotomizes the jokes from the fun facts it gives you so that you can have more convenience in your preference of entertainment.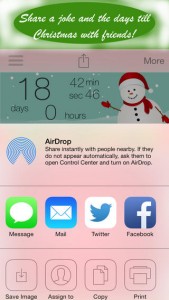 Some of its major jokes categories would include:-Bon Bon Jokes-Christmas Tongue Twisters-Standard Christmas Jokes-Wacky Christmas Jokes-Snowman Jokes-Santa and Rudolph Jokes-Santa and the Little Girl by the Chimney Jokes-Santa and His Little Elves Jokes
Whether you hold an iPad or iPhone, this app will surely be quite a pleasure to see on your screen. Download it now and make your Christmas more meaningful and laugh-loaded.