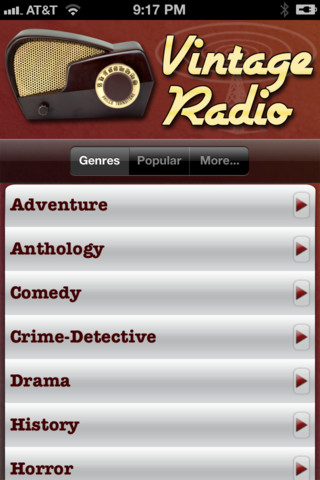 Vintage Radio is created by Orion Internet Services, LLC. It is available on the iPod Touch, iPhone, and iPad. This app is really entertaining for people who like listening to old time radio shows. Vintage Radio offers many genres ranging from adventure to comedy, history, horror, and much more choices. Each genre has a lot of shows that provide listeners with a great listening experience.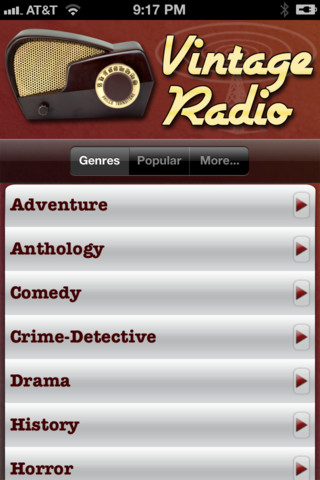 Listening to radio shows has almost a magical feel to it and is a distinguishable type of media. It's not like reading a book, watching TV, or listening to a podcast, but rather very different. You'd have to try it yourself to see how enjoyable vintage radio really was, and continues to be even today.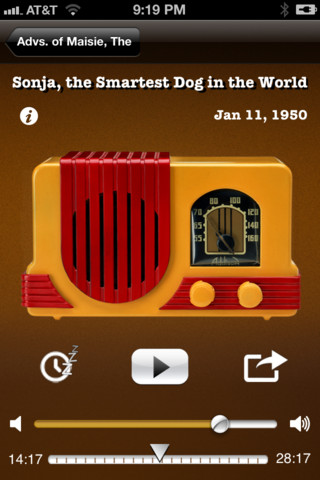 The Good:
There are hundreds of shows ready for you to watch spanning many genres. On top of the lite version you can purchase the premium Vintage Radio and also buy more shows.
The Bad:
The user interface could be updated to look more vintage or sleek. Other than that I haven't found any shortcomings or glitches in Vintage Radio. The in-app purchases are worth every penny as well because they give you so much extra shows.
Conclusion:
If you've never listened to radio shows then now's your chance. Similarly if you love radio shows but don't have an easy way to get them onto your phone, Vintage Radio is also a great solution. The real benefit here is that Vintage Radio is free so you can try it and see if you're into radio shows before spending more time or money on it.