June 11 a very important day for all soccer fans, as FIFA World Cup 2010 is kicking off with a grand ceremony. Some might got an opportunity to watch the match and many didn't have the opportunity besides various works. Well, now you catch all the updates of FIFA World Cup 2010 Live on your iPhone in amazing detail. Total Football 2010 an iPhone app, which was released before a week brings some advanced detailed information on world cup matches.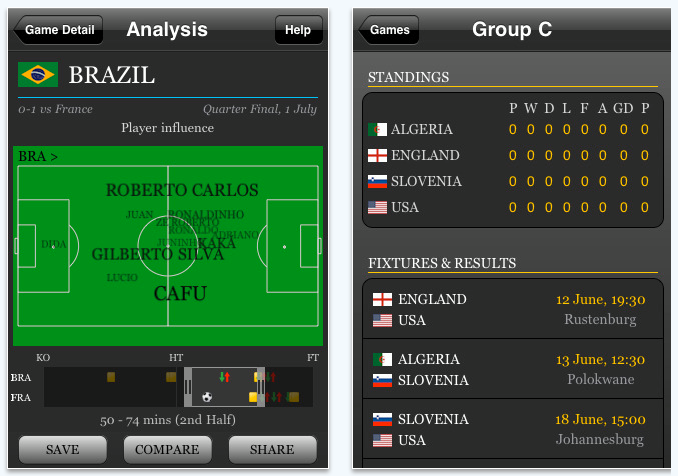 rel="nofollow>
The app has almost every possible feature to stay upto date with world cup matches with advanced feature like goal scores and match data including passes, shots and other features on live. Best about Total Football 2010 was the ability to compare between matches and shows how the game changed after a goal or a penalty.
Features (as per the app developer)
Full fixture list for the 2010 World Cup in South Africa, including the knockout stages
Live match updates for every event including passes, shots, tackles, fouls and much more
All the usual match stats including goalscorers, yellow & red cards and substitutions
View who the most influential players are in each game in a tag cloud
See when and where on the pitch every pass, shot, tackle, interception, clearance, save, foul and many more events took place
Use the match timeline to focus on the particular period of the game you're interested in
Compare player v player, team v team or player v team across any of the events and any games
Share your analysis on Twitter and Facebook
Match stats including number of shots on target per team, passes and tackles
View player stats such as who completed the most passes or made the most shots
Save analysis to review later or share with your friends
Group tables including goal difference
Full data for the last 8 games of the 2006 World Cup (including the Italy v France final and Zidane's infamous sending off) to whet your appetite before the 2010 tournament kicks off!
So Total Football 2010 would be a perfect companion to get detailed game analysis and news on the move for soccer fans. The app was priced at $1.79 and available in all iTunes stores.
Cost: $1.79
Download from iTunes rel="nofollow>