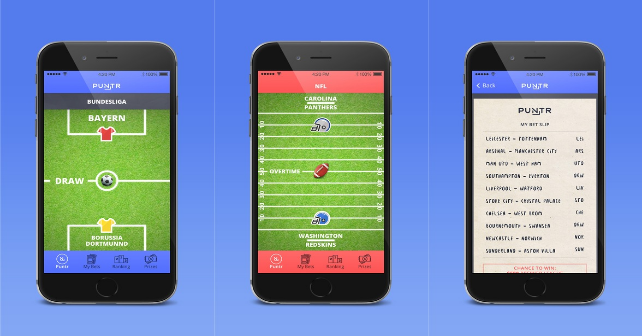 Most fantasy sports apps have always prioritized covering all types of sports, up to the point that they neglect to make their platforms more user-friendly. While everything is in order, it certainly wouldn't hurt to make something simpler for users. This is what the developers of Puntr obviously saw, which is why they tailored the app to cater more to everyone.
For one, the interface is very smooth and organized. Every sport or league that you can bet on is arranged in a very engaging way. Each one is either represented by their known icons. For American sports leagues, for instance, every pick is tagged with the ball that is associated with the sport and are labeled according to professional sports leagues such as the NBA, NFL, NHL, etc. As for European leagues, each one is divided by country, which is then labeled with their corresponding names (e.g. the Premier League in the UK or the Primera Division in Spain) as well as their flags.
If you're worried about having to make a deposit first before playing, know that Puntr actually allows all users to bet for free. You can make predictions and compete with your friends on Facebook and other social networks. Betting is really easy as well, as you only need to choose a specific tournament, pick or predict the team that would win, verify your ticket submission, then choose from numerous league prize pools; the app has a jackpot that gives users a chance to win as much as $50,000 a week.
Tickets can be shared with your friends, especially if you want to exhibit your betting prowess to them. The app's Swipe feature adds loads more to the table as it involves allowing users to swipe for lots of leagues any time they want, and there's no additional fee in doing so. Your needed info such as pick ratio would be revealed to you, which readily reveals how your betting trends have been performing at present.
Each league is well-represented by an actual field or venue of the given sport, with its ball placed in the center. Opposing teams are located on either side of the field, represented by their team name and uniform color. You can swipe up or down to select the team you want to bet on, swipe left if you plan to bet on draw or overtime or swipe right to immediately be taken to the next available game. Want to know the current rankings among bettors and the present prizes? These factors have their own separate tabs in the interface.
As said above, Puntr definitely shines and trumps other fantasy sports apps with its convenience and uncomplicated betting interface. There's also the fact that a lot of users have praised its intuitive and fun betting designs. The same simply can't be said for other apps of its kind. With that said, if you want a fantasy sports app that you intend to use for a long time, look no further than Puntr.
Price: free