Play Wickets is a new iPhone game designed to test the cricket knowledge of players all around the world. The game is designed trump-style, enabling anyone to see just how well they know past and current Cricket Players gameplay and statistics. The app includes over 3000 tests, Twenty20 and One Day International games, allowing gamers to select from over 50 available formats. Additionally, Trivia Quiz games can be played within the app and users can also take advantage of the Showdown feature in 1-vs-1 games. Here is how the app performs on the following chapters: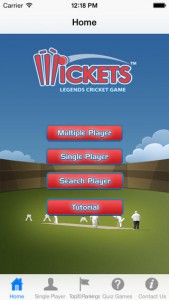 Design – Innovative Layout is a Bonus:
Play Wickets comes with a user-friendly layout that helps anyone to quickly get used to the interface. For first time players, a quick tutorial is included right on the first page. Additionally, gamers can select whether they want to experience a single player knowledge match, multi player, or challenge infamous cricket legends from around the world. For everyone who has some little background in the cricket industry, playing the game is a piece of cake.
Features – Plenty of Functionality for those interested in Cricket Games:
To start with, Play Wickets is a card game that offers a multitude of features for those who take Cricket seriously. The game comes with a very interesting 1-on-1 module that enables just about anyone to test knowledge against a fellow player. Over 50 playing modes are available and can be selected right from the main interface, once a challenge has been set. Furthermore, players can choose whether they want to go on a Showdown or a Quiz game with their rivals, all being based on the international cricket game.
Ability to Play Single, on the Internet or with a Fellow Player:
Play Wickets gives gamers the ability to play with anyone they desire, at the touch of a button. The "Search Player" button connects people with a fellow online rival or even with legends such as Brian Lara, Shane Warne, Imran Khan or Sachin Tendulkar. What's more, players can choose to test their knowledge with a random opponent from the Internet, which can be selected thanks to the "multiplayer" option. Finally, those who prefers to learn and experience cricket quizzes and various game modes on their own have the option to opt for a "single" match.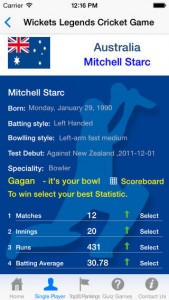 Conclusion:
Play Wickets is a highly addicting iPhone game that can easily get anyone to play for hours at a time. The only requirement to play the game is some little background of the Cricket game and some recent statistics. There is also a small, one-time fee which needs to be paid for those who want to own the full version of the game.
Price: $0.99
Rating: 4.5/5