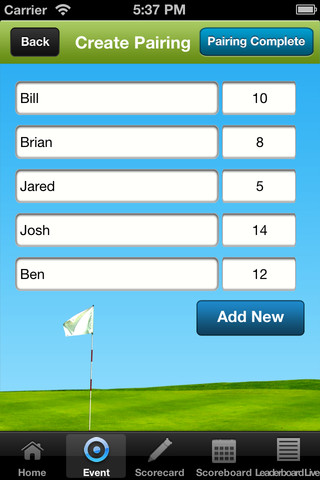 Are you a golf enthusiast? Do you own an iPhone? If yes to both of the questions, perfect combination, buddy! When you play golf, keeping track of scores as they happen is made easier with the myGolfLeaderboard app for the iPhone.
A Concise Introduction to myGolfLeaderboard:
The app is tailored to easily keep record of your golfing stats with adherence to the USGA Handicap levels. The design is very sleek with purely interactive features that make it a truly valuable enhancement whilst entrenching your endeavors in golfing.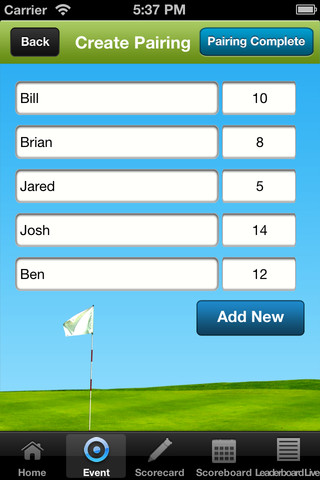 Getting Up To Speed with Matches and Competitors:
Whether you're in the field or away from it and you're interested with how the game is going between your friend and his opponent in the club, for as long as you have an iOS device in hand, the myGolfLeaderboard app will allow you to see the scores, rankings and winning odds of the event that's happening live!
Features Making It The Best Turnkey Leaderboard App!
myGolfLeaderboard is best because of the following:
* It's made simple
* Quick and easy to use
* Collects real time scores
* It boasts 15,000 different options for courses
* Allows you to make a match with regular groups using the My Group feature
* Enables you to upload the concluded scores right away
* Enables you to see the scores on the field or through the clubhouse TV
Form an Event:
Do you want to make a Regular Play and get to compete with friends? Just name it up and you should be good to go. The same easy principle applies to a regular group that you love playing with. Using the My Group features, just fill the names of the members of the match and a couple of finger taps will make the play!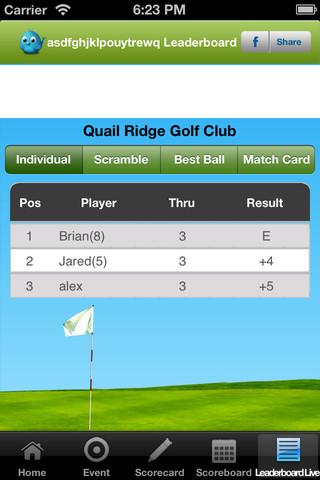 Packed with Entertaining Games to Play!
myGolfLeaderboard is not merely a scoring tool for your golfing endeavors. It also boasts a wide spectrum of virtual golfing games to play such as Best Ball and Scramble. When you can't be on the field just yet, at least you've got something really fun to be occupied with.
Bet for Who You Think Wins!
Love betting for golfers? Then this app is for you. With the Match Cards features, you can bet for the player you think has the better odds against an opposing team in the club, the interactive way.
In addition to scoring, setting up matches and getting to bet the easy way, myGolfLeaderboard also helps in finding the weak points of the opponent to advance better with your game. Get to jot down your Driving Accuracy, Scrambles, Putts, Sandies, and Greens in Regulation as well as Score – or to cut thing shorts, know your progress as the game goes on. All of these through the myGolfLeaderboard app for your iPhone!
Price: $3.99
Rating: 4/5