Pinch for iPhone, the latest app addition to the social networking category on the app store. The app is an inclusion of iLocation, iContacts and iMessenger to bring social networking handy. Pinch hopes to make every user to stay connected with their app by minimizing the cost incurred by SMS/MMS.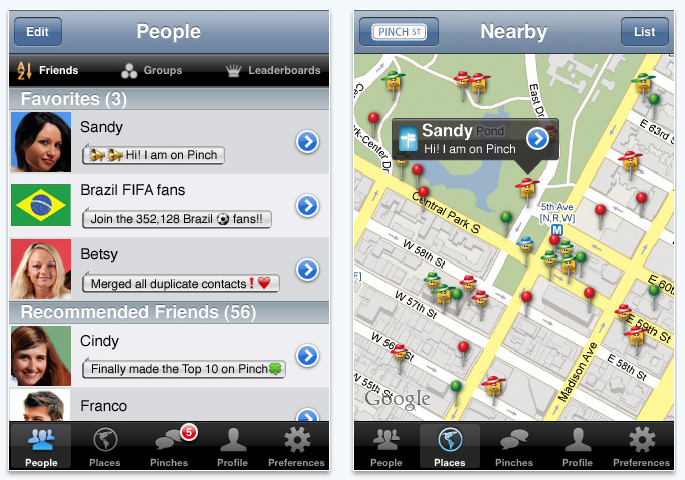 rel="nofollow>
Pinch app was developed for the sole purpose of communicating with friends with a cool inbuilt features of the app. As per the developer, Pinch was set to redefines the way of messaging and I too feel the same in keeping our friends updated. Well, everything looks good besides some flaws.
Let me first talk about best three features of Pinch app:
Search for Pinch users near your place using the Google map integration
Get yourself into the contest to win iPads and iTunes gift card, this wasn't a feature though, but it keep us sticky to the app to be a lucky winner of the magical device.
Dedicated profile page that show the points, number of friends and some basic information.
Three things Pinch needs improvement:
If you wish to edit your birth date details on the profile page, the app get crashed. I thought initially by mistake I have closed the app, but after repeated attempt to change the birth date the app gets crashed
Friends search is found under the pinchers tab, which I felt irrelevant to the section.
I was pretty much blank when I opened the app and don't know what to do with this service, could have been made better with a welcome screen.
I hope the developers should make these changes in their next update and except these three the app looks great with its features. Nice app and after many pinchers I am on the leadboard to compete against the few who tops the list, let see if I am able to win an iPad. Till then you give a try for this app to make more conversations with your friends at no cost.
Cost: $0.99
Rating: 3.5/5

rel="nofollow>