Making prank calls among your friends are always fun. Thanks to JBMJBM for developing a prank app for iPhone and iPod touch named Prank Me. Prank Me is an app completely dedicated for making prank calls using its advance features. Now with this app, you can select 32 different personality voice to make prank calls. With more advance option, you can make prank calls that doesn't look to a prank call.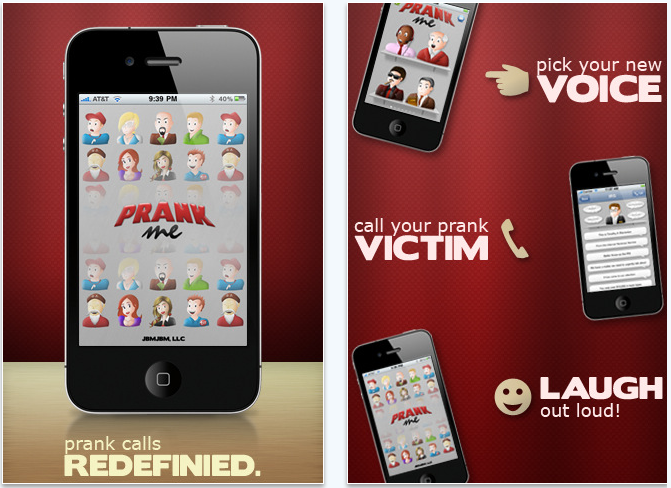 rel="nofollow>
Prank Me is all about fun with more than 22, plus an additional 5 characters added in the latest version. So with almost 27 different personality voices, you fool almost all of your friends by trying out with different voices and shuffling the scripts.
How to make prank calls
Prank Me lets you to make phone calls by selecting any character and then hit the call button to dial numbers. If you have your friends contacts stored on your iPhone, you can use that to make prank calls. Since the app takes advantage of the background music, the technique doesn't seem to work with the iPhone 4. As reported by the developer, the app does consider the prank me vocals as outside noise and cancels it on the iPhone 4. They have also mentioned that they were talking regarding this to Apple, to find a solution for this as soon as possible.
So except iPhone 4 users, iPhone 3G and 3GS users can be benefited by Prank Me. The app has another exceptional feature by giving a call back number. If your friend dials that number, he will be notified with a message – "you have been pranked". I think this is a good features, which cannot be found on other apps. What you say?
The conversations made by the 27 characters in the app, were pre recorded with the option to order and exclude any unwanted scripts. But with the lack of adding our own texts, it looks to be the downfall of this app. Even though the voices aren't really natural, so some might easily guess its a prank call. Anyhow its good to see such technologies comes into our iPhone, to add some real spice to our life.
Cost: $1.99
Rating: 3.5/5

rel="nofollow>