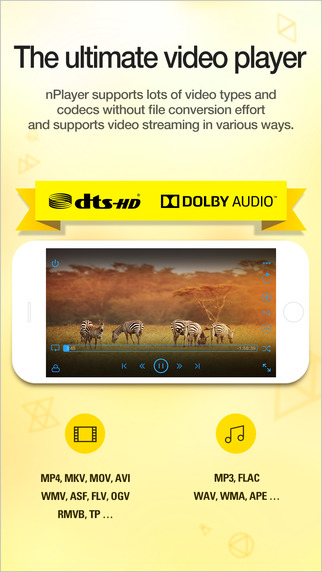 Modern mobile devices are great, but a lot of times, they end up frustrating their users because they provide all this content, but much of it cannot be accessed by the set of regular apps. These leaves users with video, music and many other types of data that they desire to enjoy and consume, but cannot because their device does not allow their playback. Now, using an app called nPlayer, this can all change for good. With it on an iOS device, the unlimited potential of a broad playback and connectivity potential can be attained, where every file and popular format can be accessed in a simple and easy manner.
nPlayer was designed for the Apple mobile devices and can be downloaded from the iTunes service. It can be installed on an iPhone, an iPad or an iPod touch, and only requires an iOS 7.0 or a later version. In its core concept, the app represents a player which can replay a variety of formats, but also access videos from remote locations and stream them to an Apple device of the user. With it, users will be able to play a whole range of video formats and specific codecs without the use of converting apps, while networking options allow for a range of connecting and streaming possibilities.
The app features an incredible range of advantages. It features a support for DTS audio codec, Dolby audio, and Dolby mobile Surround formats. Its connectivity features cover Chromecast, Smart TV and a support for an HDMI output. It features of support covers practically all relevant video files, including MP4, WMV, FLV, MKV and many more. The same is true for audio files, where everything from MP3 to APE and FLAC is covered. The player will also recognize a range of subtitle formats, including their streaming and download services, but does the same for image files and even playlists. The cloud support feature covers Dropbox, Box, Google Drive, Yandex.Disk, and OneDrive, while Toshiba wireless storage like FlashAir also includes a full support.
When it comes to special online services, the nPlayer features in-app browser for both downloading and streaming, while the same is true for iTunes videos and audio content that is DRM—free. The feature of full aspect and screen manipulation is underlined by the same control for the sound features, including audio boost, sync and multi-track option. The playback features are fully integrated; simple controls and gestures make their access exceedingly simple, thanks mostly to a greatly designed user interface. Finally, the file management features cover everything from deletion to making new folders, and the same services cover playlist management and Wi—Fi transfer procedures.
There is no need to underline what separates this app from its competitors because it simply does not have any real competition. With a level of feature presence that can rival any desktop player application, nPlayer is essentially a streaming and replay super-center that nullifies the need for any similar app. No other app even comes close to the sheer power this app provides to any iOS device that has it.
For anyone looking for these types of services, nPlayer is by far the best possible option on the market. Saying that the app is capable of supporting all streaming and replay functions is an understatement because the same app provides so much more. Currently, its position on the app market as the leader is unquestionable.
Price: $8.99
Rating: 4.7/5