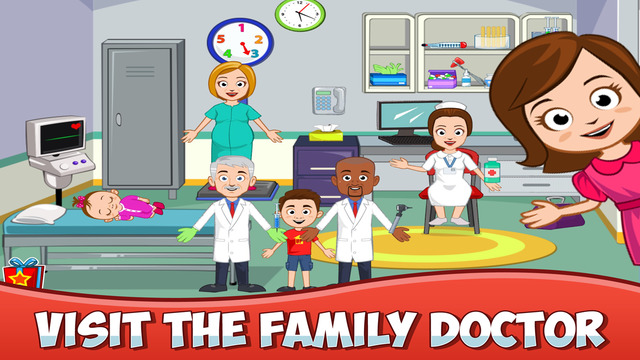 My Town Games is a mobile app development company that became famous because they correctly gauged and understood the market for child applications. Instead of going for flashy apps that dazzle with their graphics and explosive tempo, this developer decided to take a much more subtle approach and really try to understand what do the small children actually need from apps made for them. The result is a game series called My Town which presented an excellent platform in which kids could express themselves. With My Town: Hospital, the situation is similar and the developer once more created a perfect blend of visual distinctiveness and interactivity that is perfectly suited for children.
The basic concept of this game is to present the youngest players with an interactive environment, set in a cheerful hospital, where they will find plenty to do and have fun with. Developed as a play imagination type of game, the app does not include special tasks and missions that could confuse the players or throw them off. Instead, the game offers plenty of opportunities to explore the many rooms of the hospital at their own accord and be amazed at what they find there.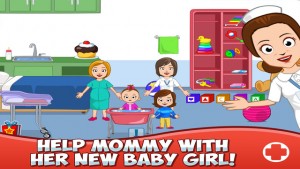 Using a diverse but easily Iearnable gameplay and a user interface that is ideally suited for children, any kid will be exceedingly happy with this app. Inside of it, diverse content awaits them, including looking at babies on a monitor, which is ideal for all those children who have a brother or a sister on the way, X-rays, doctor checkups and much more. When children get their hands on this app, the endless engagement it provides is truly astonishing. With it, the ability to interact with the hospital environments provides a platform where kids can exercise their imagination, but also cognitive abilities.
The game provides a huge set of features, all of which are tailor-made for kids between ages of 3 and 12. The game features 7 different rooms in a two-story hospital. Inside, the players will be able to check out the gift shop features where they can stock up on things like balloons and flowers to bring to their friends. The app features plenty of characters, like doctors and family members. Parents can be safe in knowing that a parent control feature protects their children. Finally, because of the popularity of the game, it features no ads and no third—party content. Instead, it gives all of its content in a single purchase.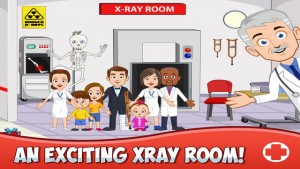 But, it is the educational feature that really allows this app to be separated from any of its competitors. With this app, the young players can learn that a hospital is just another place where fun and nice people can be found. This is critical for teaching kids and showing them that they should not fear the visit to a doctor. My Town: Hospital is a game and an interactive experience that should be appreciated by parents who want to provide their children with quality entertainment that is both fun and educational.
Price: $2.99