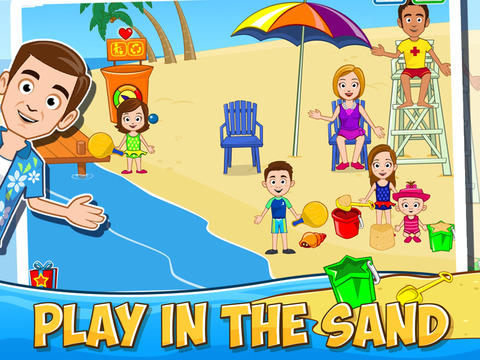 When a game is stripped to its most basic elements, it is left with an interactive system. These systems represent a digital space where users can manipulate objects and events, which in turn leads to some kind of consequence. When more content like rules, additional system, and other thing are placed on top of this interactive environment, the game becomes more complex. But, a lot of time, making sure players get just a great interactive system is all that is needed for a great game. My Town: Beach Picnic is a mobile device app that works on this idea and it presents a perfect game for children of all ages.
Created by My Town Games development team, the game represents a doll house genre, meaning that it provides an interactive setup where there is so much to do. Designed for kids, the game is set on a beach-side picnic where a family of characters arrives and spends time. Here, any child playing the game will be immediately sucked into the colorful and fun world of the My Town: Beach Picnic game. The basic concept of the interactivity is delivered is a great manner, where there are no objectives and tasks that need to be completed. Instead, a child is able to explore the beach, change the clothes of the game characters, go fishing, clean the beach of trash, or even catch some waves while surfing. All of this is possible and the limits of the game are only set by the child's imagination.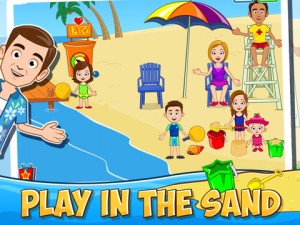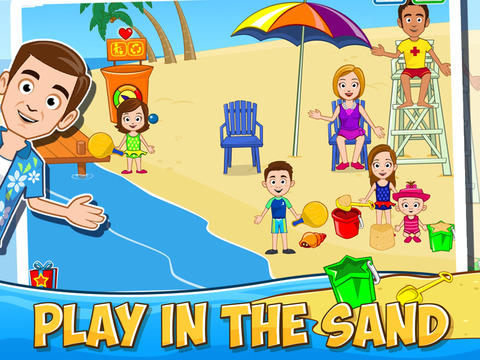 The visual design of the game is completely in sync with the commands and user interface. As a comic cartoon, the game is full of colors and shapes that make it look fantastic while the user commands provide a setup that will allow kids as young as 3-year olds to play it. The sheer amount of content provides enough things to do for children as old as 10 or 11.
Aside from great visuals and a simple Ul, the game has a lot of additional features. The store area provides many objects that will make any picnic a lot more fun, including things for building sand castles, swimsuits and much more. The My Town: Beach Picnic provides the feature of versatile locations, where players can choose between going to the waterfront, to the sea (or even below it) or to the picnic area. The feature of a dress-up game is another example how the app uses well-known mini-games in a new environment. All of these feature unique tasks that can be completed there. Finally, the feature of a current promotional sale for the app allows the parents to buy it for an affordable price and enjoy it as a family without any in—app purchase or ads coming from a third party.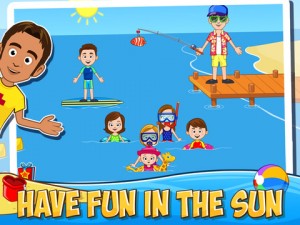 But, the thing which really makes this game stand out from its competitors is its ability to teach kids important things. This feature of real life learning allows kids to begin to appreciate their environment and underlines the need to keep it clean, especially the ocean and the nature around it. This in turn instills in them great and useful values that will shape them into responsible adults.
With enchanting graphics and a great interactive system, My Town: Beach Picnic is a brilliant game for children who love to learn, explore and have fun, all at the same time.
Price: $2.99