Are you looking for a trendy music player that can satisfy your vintage taste? Here is an app named Vintape to meet your musical needs. This iPhone app, developed by BegSrl, is sure to take you back to the time when you couldn't live without your Walkman and cassettes!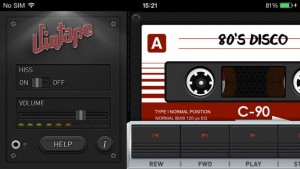 Vintape is a simple music player application that comes with an interesting twist. It has been designed with an interface that looks just like a cassette, which brings back fond memories of the analog age and lets you relive them on your iOS devices. It can play all kinds of music files and comes with the features you would expect in a digital music player.
Salient Features:
* Cassette skin options
* Rotation gestures to move to the track of your choice.
* Headset controls
* Personalized mixtape collection
* Option to enable/disable tape hiss
Each playlist is presented in the form of a cassette tape. Vintape allows you to create playlists with the music files of your choice. You can arrange the songs in order by dragging the tape. You can choose a cassette skin for your playlist from the wide range of options available in the app. The app's intuitive controls let you create and manage playlists with ease.
The app has rewind and forward options as in analog cassette players. Vintape uses rotation gestures to rewind or fast-forward audio tracks. It also has an option to enable tape hiss, to make it look like the music is originating from a real cassette player. Vintape has unique headset control features. With this option you can conveniently play or pause music using your headset, without having to reach out to your smartphone.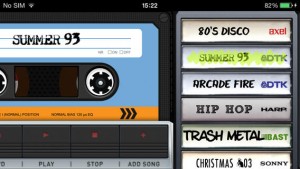 Vintape brings a unique and refreshing musical experience to your iPhone at the price of $0.99. The app's classic cassette player interface made me feel nostalgic about my college days during the early '80s. Now that the developers have brought out a music player in a design I have never imagined, I look forward to seeing one with a gramophone interface soon! 🙂
Price: $0.99
Rating: 4/5