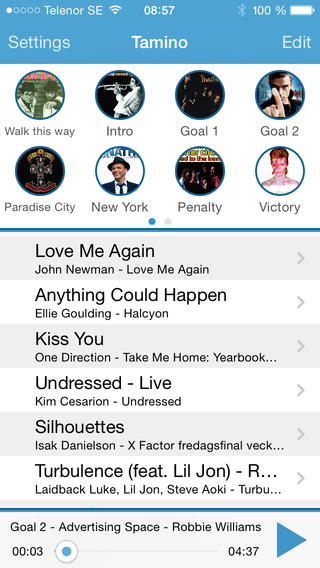 Tamino is a new iOS app in the music segment, designed to simplify the life of audiophiles worldwide. With its aid, everyone can create long playlists according to genre in just few slides. One can use a Spotify Premium account to enhance the listening experience or use the default iTunes playlists. Moreover, using dedicated programmable buttons users can choose to quick-set any song which can later be accessed using a single touch. Up to 32 songs can be set in this manner. Here are other interesting features of this app: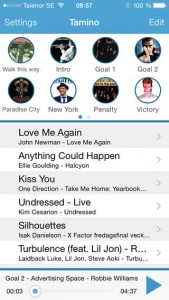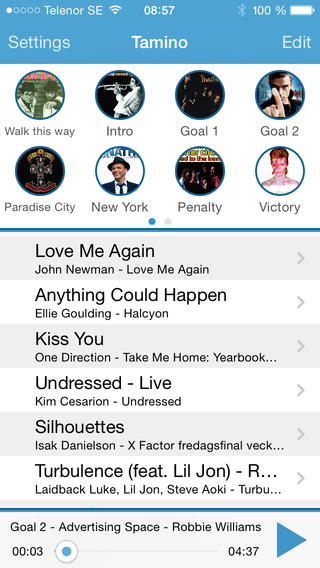 Ability to Program Start and Stop for Each Song:
In Tamino each song can be played on a pre-defined interval, thus eliminating user' frustration caused by the requirement of trimming songs manually. This way no song will be affected permanently; users receiving the ability to play just a selected amount of their favorite songs.
Assign Music for Different Occasions:
With the aid of Tamino anyone can create playlists dedicated to a certain event, such as fanfares, sports victory, music, outdoor environments and so on. Tamino supports the creation of an unlimited number of playlists, so choosing from your favorite tracks should not be a problem anymore. Moreover, the app can be used to create playlists dedicated to theater and movie events.
Music-Quiz Functionality:
The app also has a feature dedicated to music coinneseurs worldwide, namely the quiz functionality. With its aid, players will be allowed to guess from a variety of song names and singers by listening to short fragments. This feature is truly great for anyone who wants to test and improve music knowledge, since the app contains quite a large database of songs from different genres.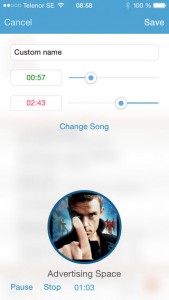 Programmable Buttons:
Want to jump to a specific song? No problem, since Tamino allows everyone to do that with extreme ease. Thirty two buttons can be completely personalized as to access specific songs, hence enabling listeners to switch to their favorite track without having to ramble through long playlists. What's more, these buttons can immediately accessed from the upper toolbar and each of them has the ability of showing singer's initials. This way anyone can jump to a specific song instantly.
Record Song Fragments:
The Tamino app also gives music lovers the ability to record certain song fragments and later compile them or add them to a certain playlist. This way, each fragment will be easily added to iPhone's memory for later access and use.
Conclusion:
Tamino is truly a great app for anyone who loves to have well-organized music, being able to work with or without a Spotify Premium account. The app holds a variety of innovative features as well as an interface that's truly a breeze to use.
Price: $8.99
Rating: 4.5/5