From the first moment the MixTunes app is used, it is clear that this player and playlist editor intended to provide its users with a new way of managing music on their mobile device. Made by Byte Orbit development team, the app requires an iOS operating system version 7.1 or a later one while it is compatible with an iPhone, iPad, and the iPod touch. It is also important to mention that MixTunes can be downloaded from the iTunes service completely free.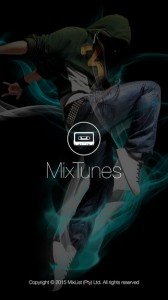 The main concept of the app is the manipulation and creation of playlists. Like any music fan knows, having a cool music player is only as good as the playlists it features and allows to be created. In the case of MixTunes app, anyone has the complete freedom to design their own playlist however they desire. With it, users will be able to edit any of their playlists at the same time. In the app, up to ten different lists are available for creating, editing and management by the users. The same lists can be custom named and special icons or symbols attached to them. For example, a playlist for exercise can be marked with an icon of an arm lifting a dumbbell. This, along with a very simple but effective visual environment that uses a black background and white letters and images, makes using the app very intuitive and accessible even in demanding light environments.
Thanks to a very impressive usability of the app, the access to these playlists can be easily achieved and it employs simple commands. At the same time, all traditional music player features are also present in the app, making it the same a place where the playlists are created and then listened on any iPhone that has MixTunes.
Additional features of the app include a quick function for adding or removing songs from playlists. MixTunes includes a special playlisting feature. With it, users can keep their favorite lists totally up to date no matter where they are or how much free time they have. The feature of hiding deleted songs, like the feature of automatically adding the device's music library is also available. There is also the feature of an unlisted playlist that holds all the songs that users did not sort, as well as pre-populated music lists that are based on genres which the users can edit if they chose so.
While there are other music playlist apps, none of them merge the notion of a player and a playlist editor as well as MixTunes does. With it, users gain simplicity and developed features, all packed in a visually pleasing environment that will be instantly usable. This package is simply unpredictable for any music lover who wants to listen to music in his or her own unique way.
MixTunes is an app that provides a combined service of two separate applications. With it, creation and enjoyment of music playlists comes neatly compacted into a single app that should be on every iPhone, which belongs to a music aficionado.
Price: Free
Rating: 4/5