In this day and age of interconnectivity, people share just about anything that they like or catch their fancy. With that said, many would agree that music is one of the most important things that we should immediately be able to impart to our friends. It's no surprise then that Flo Music was conceived and designed as such by its developers; an app that lets you share your own playlist or, if you prefer to discover other people's musical tastes, join the playlists of others using only your iPhone.
Once you launch the app, you can do either of two things: 'Create a Flo' or 'Join a Flo'. A Flo is basically the playlist that a user can manage or share. Keep in mind that the 'Join a Flo' option would only appear if there is devices nearby which are sharing their respective playlists. And, much like a Wi-Fi connections list, you may have to refresh it from time to time if a certain Flo you want to join fails to show up, assuming it's within connectivity range. That's essentially how simple the general working of the app is.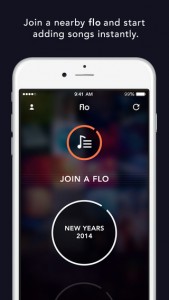 Take note, though, that the limit to the number of devices, which can join a Flo, is only 10. As for the number of songs that a user can add on a specific Flo, the default is also 10 but making the said changes in the app's settings can raise this further. You'll discover this once you've decided to create your own Flo, which you then have to name. Once you have your own Flo, tap on the "+" in the main interface to add your music and songs. 
You may have to add your music in the order that you want them to play, though, because the app automatically plays them in that order. Only the host mobile device can make changes to the number of songs in the Flo, as well as their playing order. These are the only notable restrictions, as anyone connected to the Flo can choose to add songs to it.  
The defining aspect of this app is evidently its introduction of a social-media-style playlist, which is very accessible. Other related apps could only ever boast of allowing users to share their music, but never really provide the user the capability to easily manage and share music to playlists in real-time. Also, with Flo Music, you only need a Wi-Fi connection or you can use your own device as a Wi-Fi hotspot and let others connect to your Flo.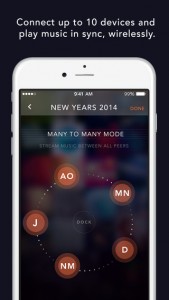 This app also makes hosting dance and music parties that much smoother and easier. It could very well become the life of the party itself because you can simply plug a single device that is connected to Flo Music to an available sound system and start partying and sharing music in no time. Incidentally, as of this writing, it has already incorporated popular third-party music sites such as Soundcloud and Spotify. With that said, Flo Music is certainly one app that music connoisseurs and party junkies should not miss out on for its truly innovative social-media-playlist technology. 
Price: Free
Rating: 4.6/5