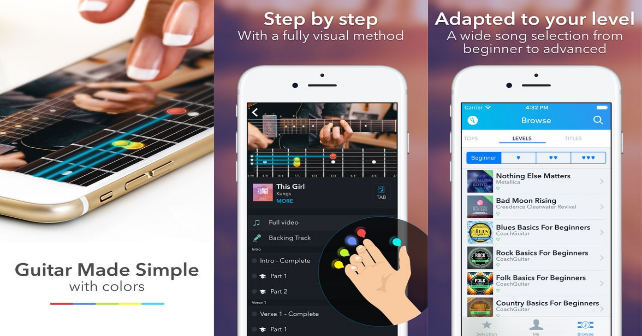 Learning the guitar can be a very fulfilling and fun endeavour, especially if you have a dedicated coach to teach you the techniques you need to know. Well, what's good is that nowadays, you no longer need to rely on actual teacher to help you learn since there are already plenty of great apps that actually focus on teaching its users. What we will highlight in this review is Coach Guitar.
Take note that the app prioritizes teaching users who mean to learn how to play popular songs without having to go through conventional musical education just to play them. Coach Guitar utilizes a digital fretboard, which effectively simulates the one that is found in most guitars. As you learn, you would find it easier to adapt to not only using the app but also in playing an actual guitar.
The app, in turn, places colored dots on the said board to signal to the user where he's supposed to be placing his fingers to change notes and to strum as he attempts to learn his song of choice. That's practically how easy to use and straightforward this app is.
As for song choices, know that each one is actually categorized into their difficulty levels so you can easily have a clear reference of which ones you should start with It also makes it less difficult to select a song since it pretty much serves as a tiered process that you can tackle based on your current skill level. The difficulty level of the song is represented by the number of guitar picks assigned to it You can browse songs not only based on levels but also on popularity and titles.
The app is perfect for beginners for it offers dedicated lessons to specific musical genres and even individual songs. Whether you like Rock, Folk, or Blues (to cite but a few of the genre's available), you'll certainly be able to focus on the one that you like.
The app is proactive in giving students the tools that would make their learning more convenient by including slow motion and looping of videos capabilities. You may even change the view of the fretboard if you're left-handed or right-handed. Other nifty features include viewing chords diagrams, optional guitar tabs, a guitar tuner, as well as trackbacks with voice capability.
Coach Guitar stands out easily from other guitar tutorial apps with its relative ease-of-use and very simple functionalities that aren't at all difficult to get the hang of The video lessons, slow motion capability, and loop features are equally unique and thoroughly helpful to learners. Take note that the app is available on a subscription basis ($9.99 per month), which unlocks unlimited access to the entire content of the app.
Price: Free