For those who love to stay updated with entertainment news, here comes the biggest daddy of entertainment – MTV News iPhone app. MTV News being the best entertainment channel, brings you the best news around the world right into your iPhone, iPod Touch and the iPad. MTV app brings you too many updates, so you won't feel like sick anymore.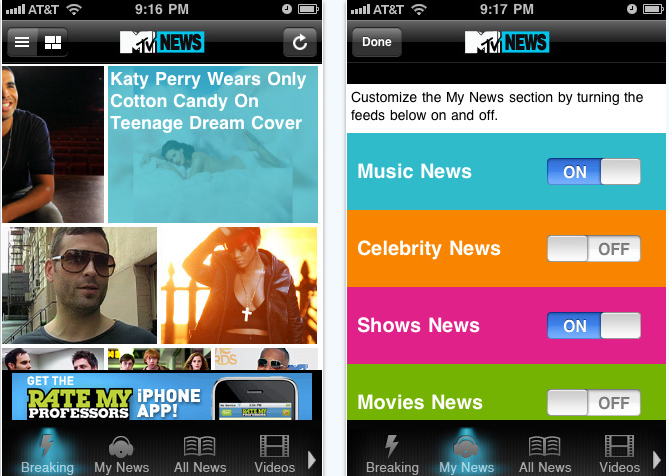 rel="nofollow>
MTV News brings you tons of entertainment news and ofcourse let you to choose between your favorite news category such as Music, Celebrity, Shows, Music and Gaming. In News section you can turn on ON or OFF news category based upon your interest. My News the other category also has the same category to display news based upon your selection. Apart from the news section, I loved the Videos and Photos section. The photos and video section offers rich and exclusive content of hot happenings in the entertainment industry. Well, to be Frank, we all love this.
Blog section is one of the favorite section in this app with celebrity gossips, gaming news and movie all are tagged under categories. Finally the standard option Settings, which contains Twitter and Facebook share. Everything looks to make MTV News a perfect entertainer app to kill the boredom.
Cost: Free
Rating: 4.5/5

rel="nofollow>