If you think life is all about doing pretty same old stuff, life isn't that way actually. Introducing Joyp rel="nofollow> a voice based social networking app aimed to surpass all those same old stuffs. Whats is Joyp? Joyp is an innovative tool to make use of the ringing tone by sharing messages between your friends on Facebook and iPhone contacts. In other way, we can say Joyp is an app to send and share short voice messages.
Statistics says people waste around 30 hours a year on listening to ring ring, I think the numbers is quite huge and totally we are wasting a full day in a year for listening to the crap (ring ring). Thanks to Joyp for putting in their effort to save our precious 30 hours time that we are being wasting for many years.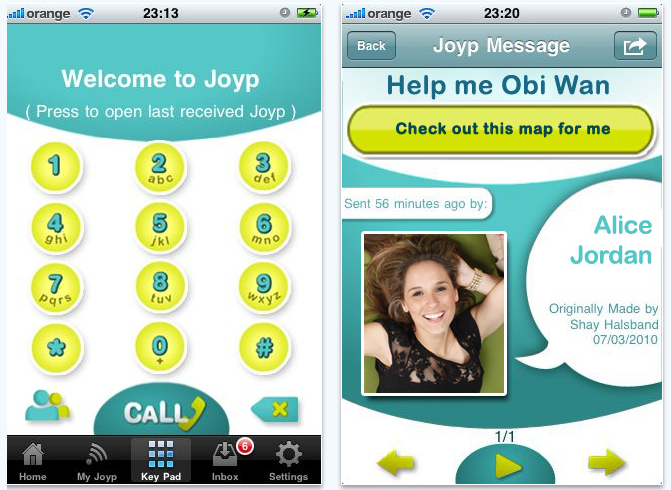 rel="nofollow>
Joyp Features
Joyp has a very cool interface with four functions in the home screen such as Make a Phone Call, Create & Send a Joyp, Invite Facebook Friends, Tutorials.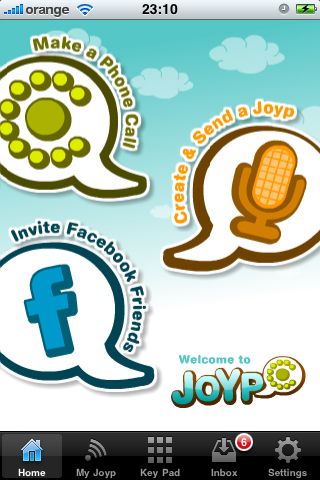 rel="nofollow>
Make a Phone Call – It is used to make a phone call by dialing numbers or you can also dial numbers of your Facebook friends.
Create & Send a Joyp – This function lets you to create a short voice message and you can send the recorded message to the friends on your Facebook contacts or from your iPhone contacts. You can even select the recorded message to be send to multiple contacts, by just tapping on their names and finally press the Send button to send a Joyp. Its pretty easy actually.
Invite Facebook Friends – In order to send a Joyp, the other end user needs to have Joyp installed on their iPhone, so this functions send an invitation to join Joyp to your Facebook friends and also to your iPhone contacts.
Tutorials – This section features five video tutorial on how to use Joyp and I must appreciate the developers for making such an excellent easy to understand video tutorial.
How it Works?
When you make a call from your iPhone though the Joyp app, the app automatically plays a voice message send from your friends irrespective of the number dialed. The voice message automatically gets stopped when the caller picks the phone. You can do the same for your friends by just recording your message then type a title and web link (optional) and send it to the recipients.
My Words
The app comes with an Inbox to listen to those voice message that you heard while making an out going call and My Joyp list out your voice messages. Joyp was an excellent invention to create and share audible messages between your friends and you known what, Joyp doesn't charge you for sending voice message, so you can send as many voice messages for completely free of cost and more shockingly the app comes for free download in iTunes stores.
Since I loved and enjoyed playing around with the app, I contacted the Joyp developers and got some interesting information. The developers has informed us – later in the Q3, we will add the ability for users to sign up to RSS feeds and receive it as Joyp audio during the ring back time. If the users like it,  they can click on the link to receive the feeds as part of their Joyp messages. Really a worth waiting feature.
Cost: Free

rel="nofollow>