Apps are meant to entertain and as well as to educate, but there aren't much apps that has both of these qualities within it. Believe me, there is an app – iSocialize that has more than 10 inbuilt features of both informative and fun features. The app includes Message, Quotes, Jokes, News, Emotions, Collections, Images, Web, Youtube, Music, Location, Birthdays, Album, Awards, Showtime; with almost everything to get socialized.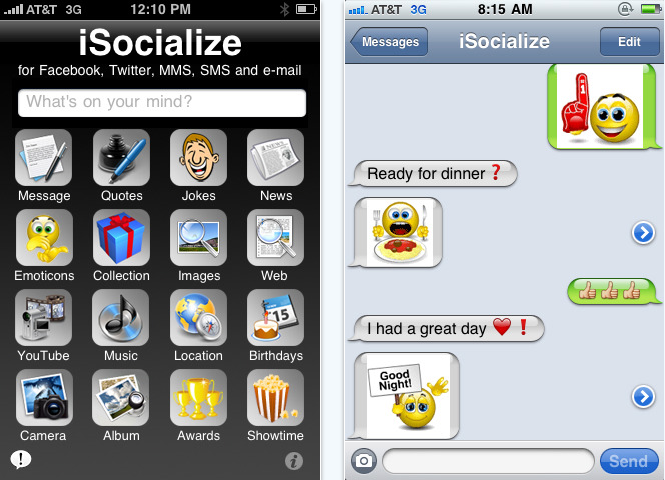 rel="nofollow>
iSocialize is a multi-purpose app with necessary features. You can send quote, jokes, latest news, information from the web to post on your facebook, twitter, email and also you can send as an SMS. The app has various categories for each and every feature in it. For an instance, if you are taking "Jokes" you get a wide range of categories of jokes like bar jokes, blonde jokes, doctor jokes and so on. All these categories has more than 100+ jokes that can be sent or updated to multiple platforms.
Emoticons lover? You have a bunch of cool emoticons here filed under different categories and all these emoticons are animated. Since the emoticons are animated, it can be sent to mobile phones using MMS. iPod users don't have the option to send via SMS or MMS, but other than this, they can update to their Facebook, Twitter and through e-mail.
I am a music lover, so how can this app entertains me? Well, there is something great about this app and that is Music. Music feature adds the ability to play songs that are stored with the device. But this is not the great feature that I was talking about here. There is a little tab in the music that lets you to watch videos of Top 50 popular audio and video songs categorized by iTunes. So, with iSocialize you don't need to search to watch the best songs, all it requires is just a swipe on the song list to start playing the video of the song using Youtube.
Still there are a lot more noteworthy features like Image search, web search, showtime and quotes. For me, I loved all these features and its  worthy enough to call iSocialize – all in one social sharing app for the iPhone.
Finally I loved this app and to my knowledge this is an awesome app that brings all the social feature under one roof. Except the interface design, this was a wonderful creation from Sivola. Priced at $0.99, you won't get anything better than this at this price.

Cost: $0.99
Rating: 4.5/5

rel="nofollow>