Parties are nice. Actually, that's an understatement. Parties are ecstatic, an intense form of recreation for the mature yet young minds. It's quite an oxymoron, but partying really goes for those who are capable enough of handling themselves into a herd of wildly dancing, prancing and shouting people. Sometimes, parties can be very reserved, too, especially when it involves parents and their children. Nonetheless, all sorts of parties have one thing in common-they're all about having fun! To add more spice into whatever kind of party you are about to throw, you better download the hippiest app on the iPhone today… It's called the iPartyGenerator!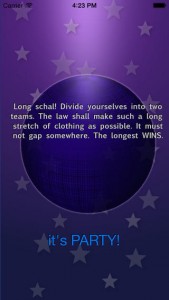 A Simple, Outright App for Parties:
The iPartyGenerator is a free app developed for the iPhone by Elias Helander. It is something that can totally make your party hippier, stylier, and more spontaneity into the batter.
How Does the App Work?
For the convenient maneuver of the users, all it takes for the app is to press it and be surprised of what will come out of it. Why does it work that way? Because it was contrived for the purpose of suggesting new and crazy things or perhaps activities that is well fitted for your setting. Or at least you can press it until such time you think the suggestion is made appropriate for what the party is all about.
The Aesthetic Appeal:
There's not much elaboration put up in the aesthetic elements of the app. You will only see a violet backdrop with a couple ginormous stars domineering the your entire screen with a big crystal ball-ish circle positioned in the middle. But that's the beauty of it, simplicity with total punchiness through the wild suggestions it can bear.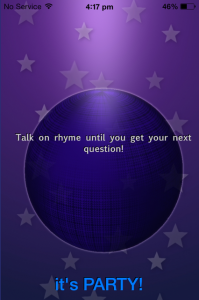 What Can You Expect from the App?
Okay, after having tried the app, here's one of the craziest suggestions I've received so far…
*Presses the magic button* Poof!
"Gather used newspapers and spread them out on the floor altogether. Play that slick Jesse McCartney song and then pause and then play again and then pause and then you know how the drill goes. In every pause, you fold the newspapers by one and then another and then whoever pair is left on top of the multiple folded newspapers will share a tomato, eating it together without support from the hands. You know how that goes. *winks*"
The iPartyGenerator app is jam packed with awesome suggestions to make your parties more meaningful, spontaneous and utterly wonderful. It works for the iPad, too, and is only in a size of .9 MB. All the humor and more out of your parties coming from an awesomely free app like this! 
Price: Free
Rating: 4/5