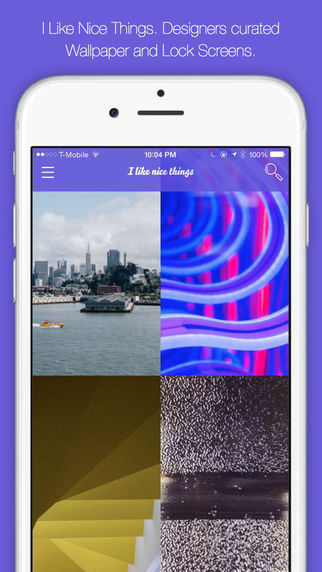 Often, the simplest things in life are those which are the most effective, especially in the domain of visual arts and visual content in general. The same notion has been proven correct time and time again, mostly because many people find a distinctive beauty in simplicity. I Like Nice Things is a mobile device app that has taken a page from the same book and because of it, delivered a very effective application that will be cherished by all users who love clear, elegant and useful images. The same app represents a wallpaper and lock screen utility that provides not only visual splendor but also an exceedingly high level of usability.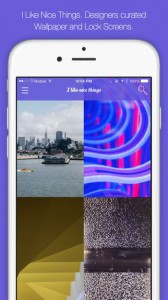 I Like Nice Things was developed for the Apple mobile devices and can be found on the iTunes service. It requires an iOS 7.0 or a later version and is compatible with the iPad, the iPhone, and the iPod touch. Because of its focus on providing incredible images for wallpapers and screen locks, the same app was additionally optimized for the iPhone 5, but also the new generation of iPhone 6 and iPhone 6 Plus. As its basic concept, I like Nice Things provides users with stunning images they can use as wallpapers on their mobile devices. Additionally, it does the same for the lock screens, which allows it to combine the idea of aesthetic beauty, but also device safety and data protection that might be otherwise compromised by an unlocked iPhone or some other Apple mobile device.
The app provides many useful and fantastically designed features. These include a very intuitive UI that is simple and highly usable. Thanks to the optimization feature, it will both look great and work great all supported devices. The app includes the feature of push notifications because it is constantly updating and providing users with new wallpapers. The I Like Nice Things app includes the feature of finding new and talented artists thanks to its Discover option. This feature is designed to present artists using Creative Common License and share them with the world, which will be a huge benefit for all users of the app who are also lovers of great art. Finally, there is the feature of in-app purchases that will allow users to support the developers of the same app and remove the ads from the application.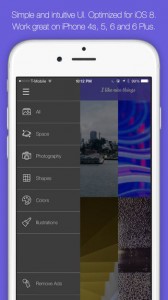 But, the thing, which really makes the app stand out from its competition, is the sheer amount of spectacular art it is showcasing. This makes it not only an app, but a true powerhouse or art and photography, which is both great for those interested in art, but also the upcoming designers, photographers, and artist. No other app on the market provides the same amount of majestic art in the form of wallpapers and lock screens.
Because of a multitude of advantages, it is clear that all who value great art should have the I like Nice Things app on the iPhone.
Price: Free
Rating: 4.5/5