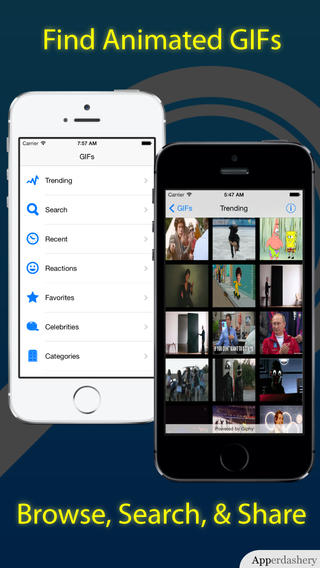 A GIF adds spice to a conversation. Whether you use it in your messages or in casual chats on social media, a GIF has the power to draw everyone's attention. Even though words do suffice, there's nothing that can beat a timely GIF. When it hits the screen, it'll have people rolling with laughter on the floor. 😉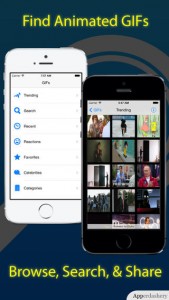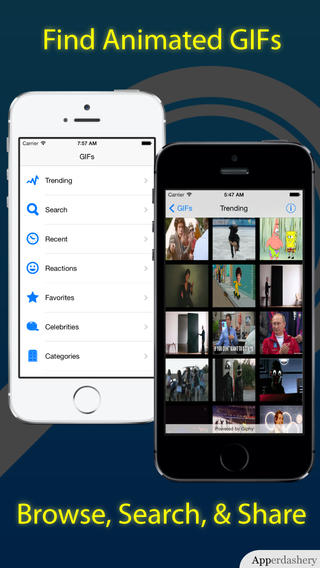 I, for one, am a very cheerful person and love to crack a joke now and then. I recently found GIF Explorer by Apperdashery LLC, an app that helps you search, find, and browse through GIFs. Commenting on posts and messages wasn't this much fun before!
As soon as you open the app you'll find a menu bar that shows you a list of options – Trending, Search, Recent, Reactions, Favorites, Celebrities and Categories. On opening the trending page, I went crazy with the awesome GIFs, and the one with Brad Pitt blowing a kiss is one of my favorites. 🙂
The GIFs also come with subtitles to add to the effect. If you are looking for the latest GIFs, you can always search for them on the Web using the 'search' option. You could even try looking into some interesting ones found in the Reactions, Categories, and Celebrities sections. 
If you find GIFs that you like, just tap on the star icon and mark them as your favorite, to save them for later. To copy an image, just press and hold onto it, and paste the GIF on any other screen. You can share GIFs with your friends via messages, emails, Twitter or iCloud Photo Sharing.
The app is compatible with iPad, iPhone, and iPod touch and requires iOS 7.0 or later.
Rating: 4.7/5
Price: $1.99