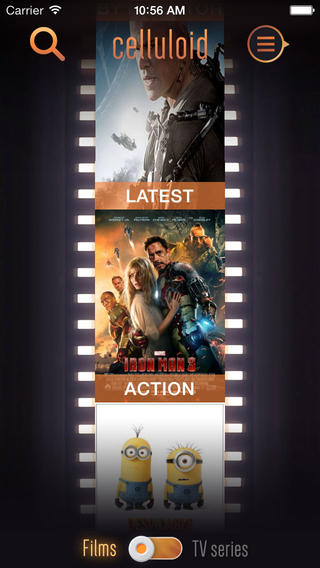 Portable devices like tablets, mobile phones and players gave way to easier video watching or access online. However, many film enthusiasts find themselves confused with movies to watch. Fortunately, iPhone apps like Celluloid extend its functionality to people with such needs.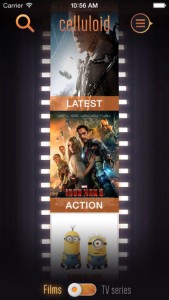 App Overview:
Developed by Eurisko Mobility, Celluloid is an app that gained positive ratings from its users. It allows players to search for films or TV series options right on their portable devices. The lightweight program satisfied a lot of film and series lovers.
Celluloid's features that you can enjoy include the following:
Find Your Film or TV Series in an Instant:
The program's lightweight build lets you search for film recommendations according to what you need. Simply choose whether you are looking for a series or movie and you will have all the results in no time.
Simple Search Procedure:
In case you find yourself lost in choosing a film to watch, simply type the genre that you feel like watching and results will be presented right away. Select and watch the trailers that caught your attention.
Long List of Available Trailers:
Review contents posted about this app commend its long list of trailers presented to users. Typing the genre will display a screen rich with suggested movies or TV shows that will match your taste. You are assured that no media will escape your search as long as you use Celluloid.
Download Movies or Watch Trailers:
You have an option to select and download the movies via iTunes stores or just watch the trailers directly. By watching the trailers, you will have an idea which films to watch on big screen or rent it for your personal enjoyment.
Easy To Navigate Control:
Controls set up on its interface are unintimidating. They are easy to control and immediately describes their functions. For instance, the button below lets you navigate through series or films within seconds.
Organized and User-Friendly Interface:
Its interface is very simple as it follows a filmstrip theme with orange and black colors as main colors. This feature makes the app easy to look at and navigate.
AirPlay Compatibility:
This app is compatible with AirPlay, an Apple device component that lets you stream media seamlessly to HDTV and speakers utilizing Apple TV. See these trailers at their glorious HD resolution and sound quality that you will love.
Enhanced Graphics:
Experience its performance at its best with its enhanced graphics. Recent update on the app makes it very responsive due to its build and Apple devices' features.
Free App Developed By Experts:
For something that is free, you will be delighted to know that this app is developed by experts meant for everyone who wants to watch videos.
Celluloid is a great app to use if you are interested on these media. Take advantage of its features and consider it as your buddy in finding a great film or series to watch.
Price: Free
Rating: 4.5/5