When it comes to educational apps I always demand for interactivity to making learning more fun. To me, I have looked around many educational apps that hardly has interactivity in it. Today while I was searching for some good apps I spot out Animals 360 which is basically an educational apps for kids to discover animals habitats, sounds and their features. So lets have a look at it.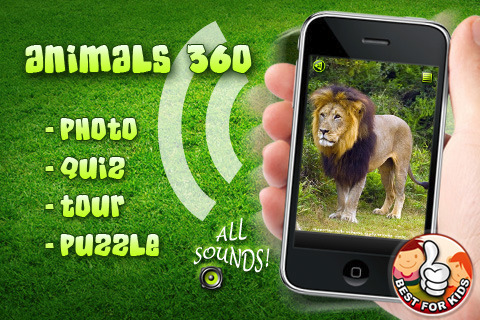 rel="nofollow>
First of all Animals 360 is a free app, so you are not gonna waste your money if you don't like it. But believe me the app will entertain the kids with loads of features in it. Looking at the name we can merely guess what does the app do and 80% of us would have the right guess. Animals 360 is an interactive educational app for kids to understand more about animal sounds and its habitats.
Animals 360 has four important menus with each has its own significance to make learning more fun. Lets have a look at all these four menus.
Photos: Photos mode contains images of different animals. For each photos users can click on the sound icon to listen to the animal sounds. To navigate to the next photos just swipe left on the images and you can also swipe horizontally to view different pictures of the same animal.
Quiz: On Quiz mode users need to pick the best option among the four with the animal name and its sound that can be heard on the background.
Tour: I just loved this mode and I am sure Kids too would love it. Tour mode brings you three different options – Farm, Safari and Forest to showcase the animals in a panoramic view. Clicking on the animal will let the image to zoom in along with the sound of that particular animal.
Puzzle: The puzzle mode is interesting to be played by any age groups. This mode has two difficulty levels that can be selecting by clicking the difficulty icons at the top right to the screen.
Overall its a wonderful app that would be loved by the kids. But besides all these features there are little things that needs to improved. The touch sensitivity aren't that good at puzzle mode and I faced some crashes while playing the puzzle. Practically this doesn't stop us to download as you can get it for free from the app store.
Cost: Free
Rating: 4/5

rel="nofollow>