A Powerful Database for the Popular Messaging App 
Today, there are many incredibly popular and successful mobile device applications, but almost none of them can come close to the results attained by WhatsApp. This communication and instant messaging app took the world by storm when it came out, providing a simple and effective way of exchanging messages, media files and many more forms of information transmission. With it, any user received a very powerful addition to their mobile device, but it also granted them an operating process that was easily supported by all smartphone and tablet manufacturers. Today, the WhatsApp company is worth billions of dollars and used by hundreds of million users all across the globe.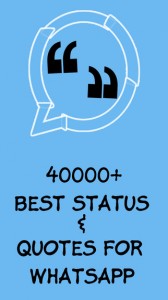 Even though this app is fantastic, a company by the name of Dot Com Infoway found a brilliant way to improve it additionally. Their app is called 40000+ Best Status & Quotes for WhatsApp and with it anyone can use this platform on a completely new level. The app can be downloaded from the iTunes service completely free and it requires an iOS operating system version 7.0. The app is fully compatible with the iPhone, the iPad and the iPod touch.
The basic concept of the app is to provide its users with a database of statues and quotes which can be utilized in practically any situation, from romantic occasions to business correspondence. The user interface is designed to support the simple and easy browsing of over 40 categories of statuses. Once a user desires to employ one of these categories, they just need to select is, and a side-scrolling menu will appear. From there, utilizing the same content is exceedingly simple, which is all a testament of the very developed UI provided by the Dot Com Infoway development team. Also, from a clearly aesthetical point of view, the visual design of the app gravitates towards minimalism and clearly defined segments, mostly through the combination of white and blue as the main colors. Essentially, the graphical experience of the 40000+ Best Status & Quotes for WhatsApp app is practically perfect.
It is also important to mention that the basic concept and the features of the app are all seamlessly integrated into a very high overall level of functionality. This means that even features like social sharing can be completed in a couple of taps. Additionally, the development team put a lot of effort into updating the app on a regular base, which makes its collection of content continually relevant. In the environment of everlasting social and cultural changes, this updating process will make sure that the app stays relevant even for the future generations and their measure of quality statuses and quotes.
The thing which separates this app from its competitors is its volume of quotes and statuses. Here, no other app can come close to the incredible amount of over 40k entries which continue to grow larger by the day. With it on an Apple mobile device, the WhatsApp users can get all the content for their quotes and statuses they will ever need.
40000+ Best Status & Quotes for WhatsApp is an app that provides its function is a perfect way, delivering to its users exactly what they need. This makes is a fantastic app for all those who utilize WhatsApp regularly.
Price: Free
Rating: 4.6/5