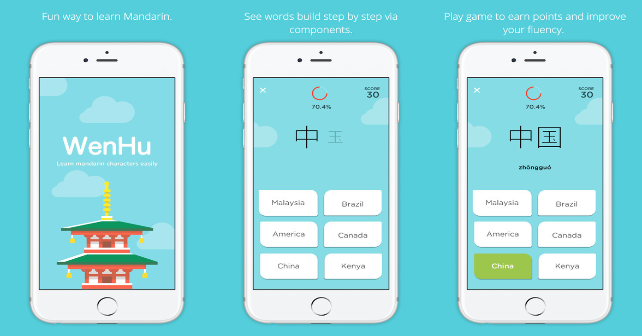 With the rising demand for an easy-to-use educational App for those learning the Mandarin Language, WenHu – Learn Mandarin Chinese Characters was developed by iOS development solutions under the Zeplin Corporation. This app uses a word relevant method where the Mandarin words are broken down into their simpler radical and components. Unlike the other Mandarin Apps, WenHu has been developed to literate people about the Chinese, Mandarin language in an easy and fun way available in different learning platforms.
How it works
As you play with the characters and its radicals, you get used to the language. You then have to work on improving the in-game fluency while collecting various Chinese characters; this way, you are building the Mandarin word recognition. The progressive learning schedule gives you an opportunity to unlock multiple achievements. WenHu Mandarin educational App provides such a holistic gaming experience with a timer ticking for each word; having correct answers earns you more playing time, where else a wrong answer result in a time penalty.
The use of word reveal gives you a chance to pick the correct answers from a set of multiple choices. The faster you choose an answer correctly, the higher the global ranking and fluency rating. There are three ways in which the players can engage with the WenHu app; the Word challenge, Practice Mode, and Time Trial. All these give you the best of learning experiences.
Features
Under the word challenge platform, players struggle to maximize the number of words played in a row while ending the game with a wrong answer. With time trial, the player is challenged to work against the ticking clock. Practice Mode is generally used to improve personal game play and fluency.
The app word package comes as followers;
• Word's components & radicals- based on phonetics components that give a clue to the pronunciation of the characters.
• Topic-based package
• A set of commonly used words
Conclusion
WenHu Mandarin learning app uses a swift and modern language that strives to offer the best learning experience while using a simpler syntax. The highly scalable database used makes the coding process clean with no mistakes. With the different gaming modes, you can always choose the best for practice depending on your learning pace.
A perfect Language pack arrangement makes the learning sequential and easy for a follow-up. With the performance display option, you can see and access your fluency rating & overall achievements earned. The statistics are also displayed for every word pack to keep you posted on the performance and progress.
Price: Free