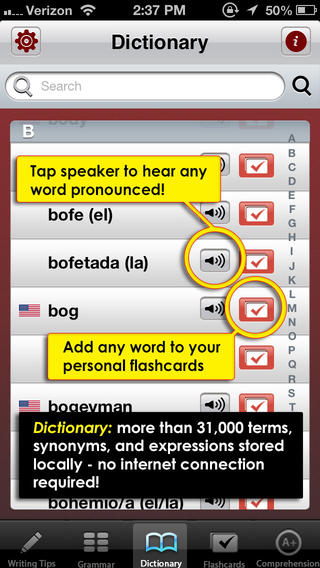 Most language tutoring apps fail to recognize the needs of their students. However, the design of High School Spanish revolves around the needs of the students. This app was developed by experienced Spanish teachers. That, in itself, is a testament of its effectiveness. Here are some other proofs: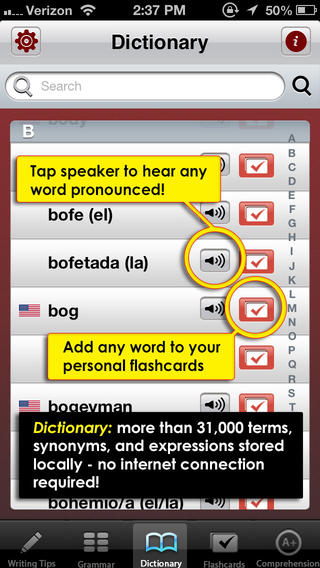 A Comprehensive Spanish Dictionary:
One of the most important things that a Spanish student should have is a good vocabulary. This comprehensive bilingual dictionary will help you on achieving just that. Right now, this dictionary is teeming with vocabulary entries, 30,000 all in all. In addition, searching can be done both in English and Spanish, so you can use this feature as a go-to tool for your quick translation needs.
A Personalized Set of Flashcards:
With the 3,000 flashcards included, the High School Spanish app is as extensive as it should be. The entries include some of the most used and important Spanish words with different parts of speech. There are also phrases and idiomatic expressions to make your learning even more thorough. If you have your own list of words and phrases, you can also add them as personalized Flashcards through the Dictionary.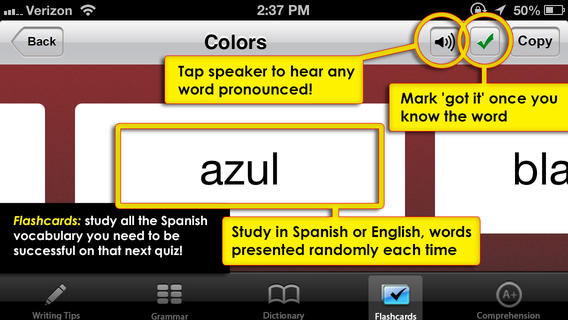 A Grammar Teaching Scheme for Your Memory:
Remembering all the Spanish grammar rules on your own is quite a challenge. However, High School Spanish has the right approach. This app used a lot of memory aids to help you retain the rules as you go. Some rules are in easy-to-remember mnemonics, while others are in the lyrics of catchy songs. Verb conjugations are also clearly outlined for you, in all the 14 tenses. Harder and trickier grammar lessons are also discussed efficiently via the compare-and-contrast method, like Ser vs. Estar or Indicative vs. Subjunctive.
An Effective Writing and Comprehension Tool:
IB and AP Spanish students can also benefit from this app because of the Writing Tips and Comprehension tools. Article composition has never been this easy with the QuickTips feature for proper formatting and grammar. You can also read and listen to Spanish articles for your comprehension exams. The results will be posted real-time so you can easily gauge your progress. Hints will also be provided whenever you've answered incorrectly.
Learning a new language is indeed a tough nut to crack. However, with the right tools and a little bit of determination, anyone can succeed. High School Spanish falls under the right tools category. Because of this smart and all-inclusive Spanish tutor on-the-go, you can easily go from Nothing to Yes!
Price: $4.99