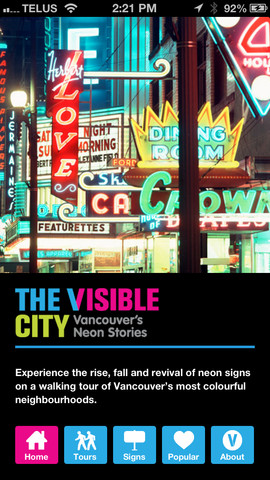 If you are into neon art or simply a fan of different kinds of artistry or even a little touch of history, then here's an app that's perfect for you. Introducing The Visible City, a museum of Vancouver's neon history that you can keep in your pocket. What are the features of The Visible City? This article shows you some of the beautiful bits that you can get from this wonderful app.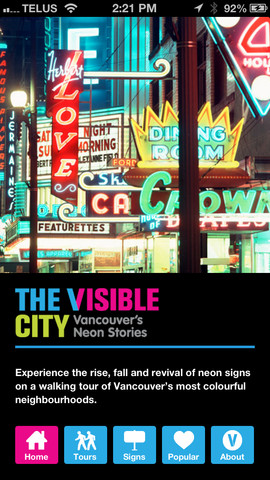 Sceneries:
With this app, you can be able to see the different sights of neon signage the City of Vancouver has to offer, both old and new ones. Get ready to be mesmerized by the city's lights that captured the hearts of many. In addition, you will get a "mini tour" of all the places where these neon lights can be seen; from restaurants, to theatres and night clubs, all in just one app.
Watch and Listen:
Not only can this app show neon pictures, but it will also enable you to listen to some of the stories of Vancouverites while they share some of their experiences in the city. With this app, you can also watch videos that will go deep into the history of this very beautiful city. Explore famous places like the Chinatown and Hastings Street, the genuine downtown hub of Vancouver.
The Visible City not only enables you to see the beautiful neon history of Vancouver, it also lets you share your own stories with some of the others and add to the neon history of the City of Vancouver. You can also vote for your favorite places and favorite signs with this app.
The beauty of this app is that it allows you to appreciate history even better while letting you write a page of that history yourself. With The Visible City, history comes alive once again.
Price: Free
Rating: 4/5