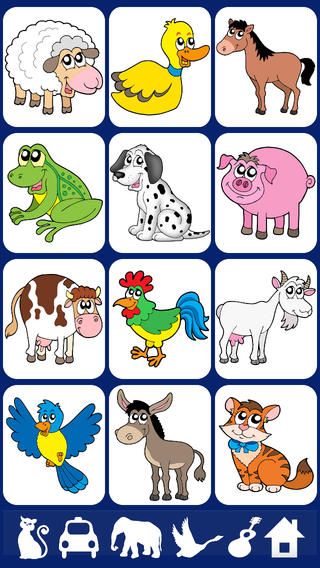 Sound Touch Lite is an app designed specifically for toddlers and kids who want to learn more about the world surrounding people and the different sounds featured in nature. The app comes with a collection of flashcards which are triggered by a simple tap; revealing real-life photos of different creatures, instruments or house-hold items.
Each photo is accompanied by a suitable and realistic sound; and it's also to be noted that each category (e.g. trumpet, violin, etc.) comes with 5 different pictures and sound transitions. This aspect enables kids to get familiarized with a variety of living beings and items as well as the sounds associated with these, hence making real-life spotting a lot easier.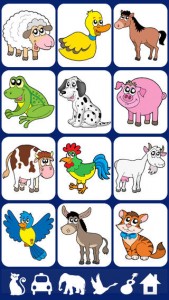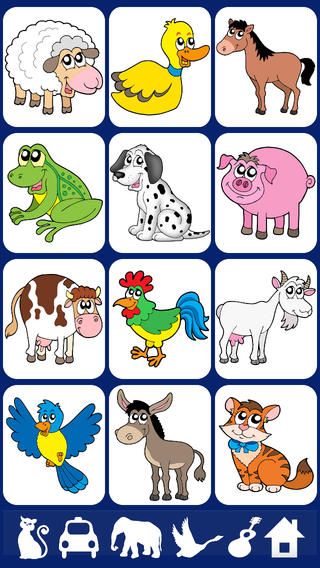 Here are some features of this app:
* Six Different Categories to choose from Plus Dozens of Real-Life Photos
Sound Touch Lite comes with 6 different categories by default including animals, wildlife, birds, insects & bugs, vehicles and music. On each category can be found as many as 12 different pictures (flashcards), including a frog, Dalmatian dog, pig, cat (in animals), a helicopter, plane, ATV, bike (in vehicles) and so on. All flashcards are child-friendly and draw kids' attention immediately. Once they are tapped, each flashcard displays 5 different real-life pictures accompanied by the sounds made by different animals or items.
* Dubbing in 33 Different Languages
Asides from standard English the app also comes available in Persian, Portuguese, Swedish, Turkish, Spanish, German, French and many other languages. These can be selected from the Settings menu once the app is downloaded.
* Extremely Easy to Use
The app has been designed exclusively for kids and this aspect is obvious from its first utilization. The app is highly responsive and all it requires are few taps in order to function correctly. For instance, all it takes to open a flashcard and reveal 5 different realistic photos is a simple tap. An extra tap will do nothing else than close the animation and return the user back to the default menu from which an extra flashcard can be selected. This aspect guarantees several minutes and even hours of fun for every toddler.
Functionality and Usability:
The app works extremely well and also presents low requirements, being able to function properly on any iOS 4.3+ device (including iPhones and iPads). No problems are to be encountered on new devices such as iPhone 5, but the app should behave well on older devices as well.
Design and Application Performance:
Sound Touch Lite benefits from a truly enchanting and intuitive design, enabling any kid to take advantage of it and be highly entertained at the same time. All animations are smooth and a simple tap is enough to scroll between menus and from one flashcard to another.
Conclusion:
Sound Touch Lite represents an innovative iOS app designed specifically for the younger audience. It comes with plenty of realistic photos and recordings, which can be easily accessed in just few taps. The app is also compatible with older devices, which represents a plus for parents who cannot afford latest technology.
This app is also available for Android users at Google Play Store for FREE!
Price: Free
Rating: 4.5/5