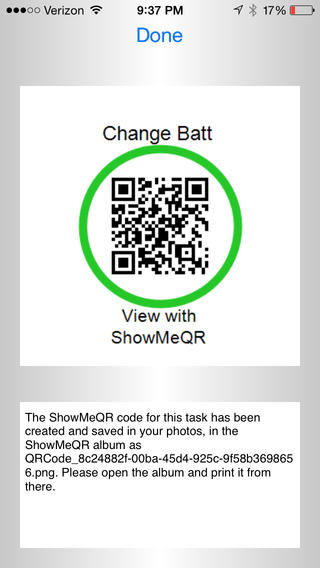 ShowMeQR is a new Apple compatible app series designed to help people live and work more independently. The app series' goal is to act like a personal assistant and allow the user to feel independent and able to successfully complete any task. The concept of ShowMeQR evolved from Gus Communication Devices, Inc. working with the U.S. Department of veterans Affairs. In 2012 the developer received a request from the VA to consider developing a "task-based app" to assist U.S. veterans returning home who were suffering from cognitive disorders as a result of injuries from explosive devices. The result of this request was ShowMeQR – and in addition to veterans – is can be used by parents, teachers, employers, employees, caregivers, government agencies – as well as those in the healthcare field such as occupational therapists and vocational rehabilitation.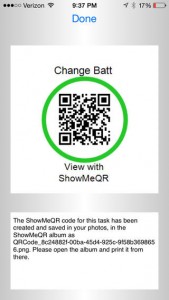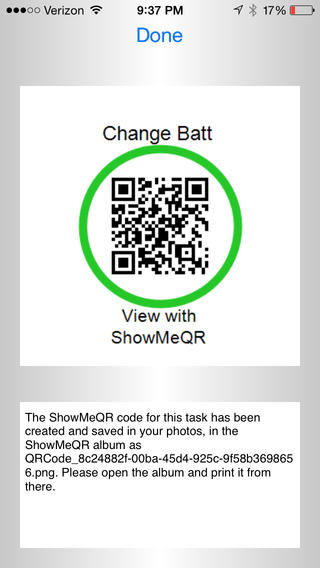 ShowMeQR is comprised of two separate apps, the "ShowMeQR Manager" and the "ShowMeQR Scanner". The Manager app is used to create custom proprietary printable ShowMeQR codes, by combining user-created video and/or text instructions. Codes can be configured as "private" or "public". The printed proprietary QR codes can be placed on (or near) objects. ShowMeQR scannable codes are not the same as common QR web marketing codes. The Manager app is used by the parent, teacher, healthcare provider or employer to create ShowMeQR print scannable codes containing video and text instructions to assist a person in completing specific tasks or jobs. Content created with the Manager app is stored on cloud servers and can be viewed with or without an Internet connection.
How does ShowMeQR Manager work?
The app is able to compress input HD video content and text into a single ShowMeQR file that is then saved into the device and becomes ready for printing. Once the task instruction is completed, educators, employers, healthcare professionals, caregivers or parents can easily utilize it for a variety of purposes such as sticking the QR code on an object to explain how a task should be performed – such as sticking it to a dishwasher for the purpose of explaining its proper operation, a coffee pot, a homework assignment and so on. Tasks can be as simple as "Tying shoelaces" or as complicated as solving mathematical linear equations.
The proprietary QR codes created with this app can be placed on any tangible object or surface but it's to be noted again that only users having a ShowMeQR scanner app will be able to visualize their content.
The Scanner app is used to scan and view the video and text hidden within the proprietary ShowMeQR codes. Its simple interface features only three large buttons – Scan, View, Help. An Internet connection is not needed to use the Scanner app during the school or work day, but it is required to download daily task updates or access LIVE phone or video support. The content (video and text) revealed by scanning a ShowMeQR code is used to provide step-by-step instructions to the user – a child, student, customer, employee – or anyone requiring assistance in completing a task. If the user requires further assistance, they simply press the "Help" button that summons LIVE video and/or telephone support.
Once the app is placed on a compatible iPhone or iPad and the content is scanned, the magic begins. A stream of HD video content and subtitle text is immediately displayed on the device (usually lasts for few minutes), thus allowing the receiver to understand more about the given object. The LIVE telephone support is also available for the user.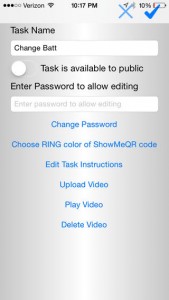 Functionality and Usability
The app is compatible with all iOS 6.0+ devices, including iPhones, iPads and iPod Touches. The app benefits from quality development so bugs and freezes are unlikely to be met throughout the process, especially when new-generation devices such as iPhone 5 are used.
The app represents one of the most advanced means of sharing an instructional video, text or phone support for showing how to complete a given task.
Design and Application Performance
ShowMeQR is a two part app. The Manager App's design is not immediately user-friendly and will require just few minutes of review to initially use. Once first downloaded, "Manager" app users need to define a task and upload given video material for it as well as text instructions. This is easily accomplished, however it takes just a few minutes to figure it out.
As for application performance, there are no negative things to be said. The "Scanner" app performs exactly as intended and represents a great learning aid for anyone.
Summary
Overall, ShowMeQR is a great app series for iPhone users who are seeking an affordable yet highly functional task-based app. It can be used by virtually anyone in the population – although it was initially conceived for use with wounded U.S. soldiers with cognitive disabilities – it is beneficial for parents, teachers, employers, caregivers, government agencies, as well as those in the healthcare fields such as occupational therapists and vocational rehabilitation.
ShowMeQR is an app series (there are two apps) – so the "Manager" app is $2.99 and the "Scanner" app is an additional 99 cents. This price is good through December 2014.
Rating: 4.5/5