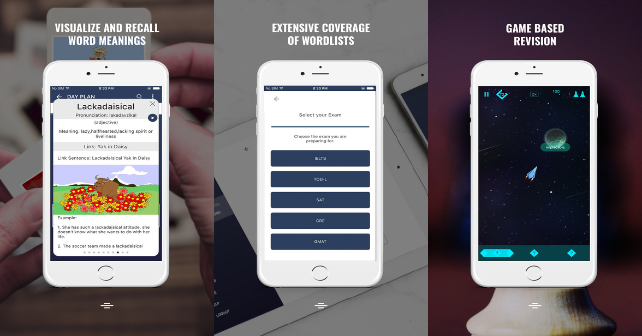 With the dawn of brain games platforms like Lumosity, it's no wonder that other apps are experimenting with games to not only improve the educational experience of users but to also invent and introduce more novel learning platforms that are guided by unique methodologies. The developers of Memorytrix introduce an app that is essentially like that, specifically targeting the learners of the English language.
In fact, it specifically caters to those who are preparing for an exam that involves English, whether it's the GMAT, IELTS or SAT, to name a few. You can freely choose the exam that you are going to be taking, and by doing so, the app would present you with exercises that would help you prepare for that specific test. Users would freely be able to utilize its Vocabtrix, which is able to excellently demonstrate the entire workings of the app. The Vocabtrix is but one of many yet unavailable categories, which intend to improve certain aspects of the user's English-speaking skills. In this case, as is evident from its name, the said category focuses on enhancing one's English vocabulary using techniques that range from mnemonics and word associations to animations.
Take note that every category has its own set of modules. These modules, same as in school, feature a set of exercises, learning materials and challenges that the user would be able to do daily. In the case of the Vocabtrix, the user is given sets of words that he would be need to memorize (term, definitions, usage examples, etc.) Link words are particularly important to take note as well, as they are technically homonyms of the given word that you would have to pay attention to while playing the succeeding game. After learning these new words, you can take part in exercises like choosing the right English word that is appropriate for a sentence. Otherwise, you can also utilize its game-based revision.
What certainly makes Memorytrix more interactive, though, is its gaming aspect. Learners may choose to play mini-games that are able to not only make memorizing and learning more fun but also more effective. In the Vocabtrix, after going through all the words in a specific set in the module, you would be able to play the Space Glider. In it, you are tasked to either collect or avoid planets that either has the correct link word to the word that is given or with relative meanings. Any word that is irrelevant to the given word should be avoided or it would result in the destruction of your ship and loss of life.
The app also incorporates spaced revision so you would always be sure that any new word that you've learned can be retained. Of course, its very singular approach to learning English that serves to make Memorytrix a truly unique app as it is. It is surprisingly effective, as you will soon find out once you've given it a try. The other features that it intends to release in the future (basically other categories and aspects of the English language) are surely worth looking forward to.
Price: Free