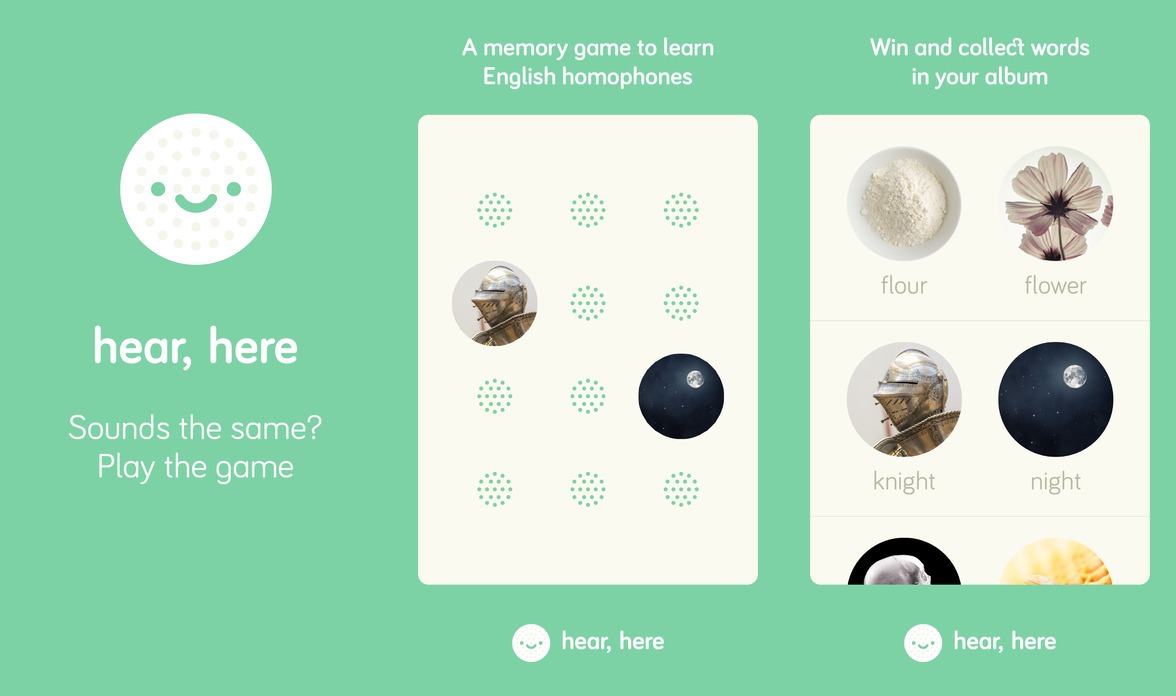 Are you familiar with the classic memory game? You pick from a group of upside-down cards to look for pairs that are alike in appearance. You only get to pick two cards on your turn, and it is your job to make a mental note of and remember the symbols of the cards that you pick as you have to replace them upside-down if were not able to make a matching pair. hear, here is also technically a memory game. Nonetheless, it relies more on auditory elements rather than visual ones.
The app's title is without a doubt a play on the expression "hear, hear!" Which is just apt since the app is all about sound. It is also a ready clue of what the general mechanics of the game is. This is because in this game, you are to match homophones (words that sound alike but have an entirely different meaning) with each other.
An educational app that is this fun and engaging is bound to become a hit among players and students alike. Its overall mechanics are so simple and straightforward that it certainly doesn't take long for anyone to get hooked to it once they've given it a try. In this app, you have to play then match the words that sound the same.
You will still be provided with the actual image of the words, but it is their pronunciation that you should be mindful of. Also, in this app, the images do not come in cards but in stock images. Speaker holes screen the images from view. You are allowed to pick two images at a time. As you do so, it is also your job to identify the word being depicted image, as you look for its homophone pair. This undoubtedly makes the app more challenging than other memory games out there. Take note that the app offers an extra 300 words, but they are only available as in-app purchases.
If we are to set it beside other memory app games, hear, here certainly defines itself and stands out from the rest with its focus on matching words with the same pronunciations. This is a clear deviation from solely using visual imagery, which only ever hones that aspect of one's memory. Indeed, the variety that this educational game app provides makes it all the more a must-try for anyone who wants to have relaxing fun with a cool memory game. The icing on the cake is that you actually get to learn something truly invaluable in the end.
Price: Free