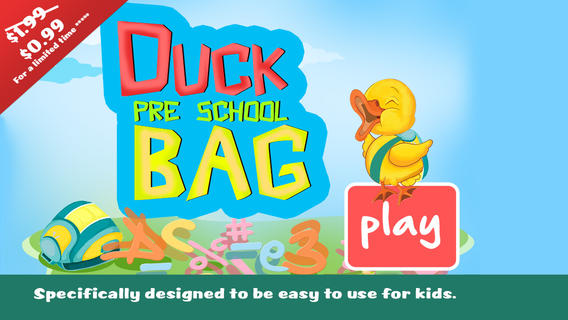 Are you looking for a way to kickstart your kid's learning? An app named Ducks Preschool Bag can fulfill your kid's penchant to know more with a whole lot of learning games and fun-filled activities. The app covers the fundamental concepts of preschool education and offers interactive content that engages kids. The activities in the game, which are interesting and educational, show kids that learning can be fun.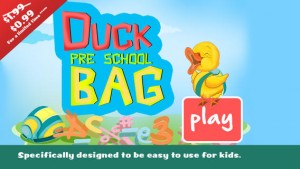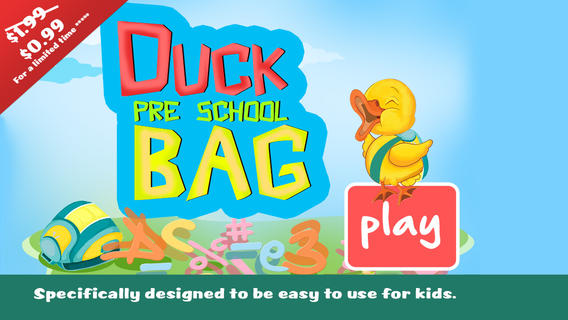 Once you install the app, your kid can set out on his/her learning journey with a duck. The app revolves around a little duck and its school bag. This cute, little duck pulls out interesting tasks from its bag to keep your kid occupied. The little duck has 7 different types of educational games – color identification, counting the objects, letter recognition, shapes identification, size reorganization, finding the odd one out and other matching tasks. The app presents kids with an unlimited number of fun games one after the other.
The tasks are very simple and straightforward, and your little one can figure out what to do even without guidance. Fruits and shapes are the two common themes used in most of the games. Let us say the child is asked to touch the red colored fruit on the screen, the options given are grapes, watermelon, pineapple, banana and strawberry. If the kid makes the right choice, the duck jumps in ecstasy, or it sheds tears to express its disappointment.
When the child gives the right answers, the game comes to an end and the duck allows you to select two stickers from its collection of stickers. The app's captivating design is sure to attract children as young as 3-4 years. The images in the app are colorful, and the background music goes well with the game's theme.
What I liked the most in Ducks Preschool Bag is its toddler-friendly interface! The app doesn't have a menu or home button. Once a game has been completed, the child is automatically taken to the next game screen. This makes navigation very easy for those tiny fingers.
Ducks Preschool Bag is worth every bit of the $0.99 price tag. In the next version, developers can consider including additional themes such as flowers and vegetables.
Price: $0.99
Rating: 4/ 5