There are two types of parents in the world – the ones who are successful and the ones who are not. Success or failure is measured by the way a children is raised. Nourishing children must be done with proper care in every aspect so as to keep them in an ideal manner. One of the things you should never forget is to learn to play with your child in a fun, safe and intellectual way. With steadfast gadgets these days like the iPad, an interactive way to enjoy with your child is made possible. Take "Who Stole The Moon?" for an example.
What is Who Stole The Moon?
It is a purely interactive e-book made for children. This app is jam packed with features that will totally live up to your children's needs for quality time without losing the educational benefit of it. Awards have been given to this kid's app by respected groups in this industry, one being Forbes for the Editor's Choice Awards.
What's in Store in this app?
There is a plethora of fun and exciting features that you and your child awaits. Here are the highlights:
* 4 completely original educational games
* An interactive e-book with purely graphical content
* 8 original song compositions by Susie Tallman topped with karaoke version of each song
Susie Tallman happens to be an award-winning children's singer who writes her own compositions. Her involvement in the app alone makes it a possession of unshakable grandiosity. Alongside her plays the magnificent Richard Pleasance, a talent of Australia.
While you can choose to sing and dance with the music played by Susie's melodious voice or trek the long and wonderful journey, you can also try to help solve mysteries and meet awesome animal friends through the prepared games.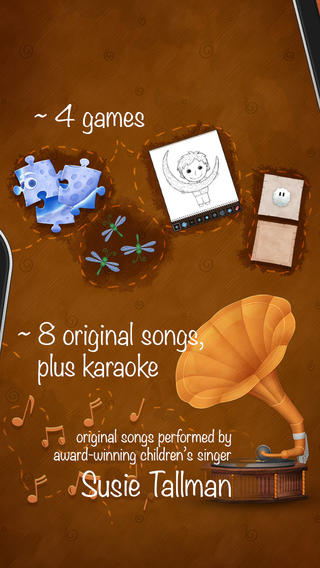 What is the plot of the Game?
So there's this boy named Bertie. He dwells in a world filled with beauty and wonder. The way he sees the things before him is as good as how a toddler does – he never fails to be astonished by the gifts the Lord has brought upon us. However, he finds that one day the moon has left the sky. The truth of the matter is that it has been stolen by someone he has yet to figure out. And that is how his story as "Detective Bertie" began.
You and your child are aimed to help him solve the mystery and fill the missing puzzle pieces to unravel the realities of what dismal thing has taken occurrence. Truly a fun game/e-book/musical box for your iPhone that will make you an unquestionably successful guardian to your child.
Please check the promo video of Who Stole The Moon app here!
Price: $2.99
Rating: 4/5