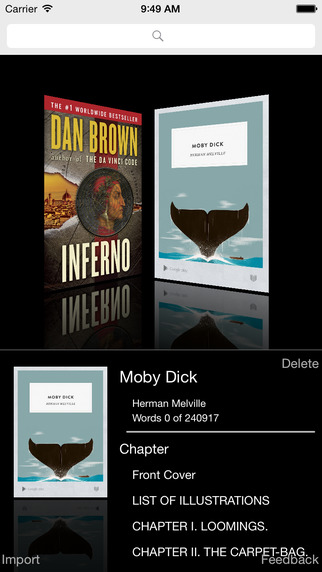 Wear Reader is a new type of app intended specifically for Apple Watch. It is designed as to revolutionize the manner in which people read books, allowing individuals to read the text at a pre-set pace by flashing the words and showing them exactly what needs to be read at a certain time. This operation minimizes eye strain caused by small screens and enable anyone to take advantage of reading right on an Apple Watch. Regardless of whether at subway, work, bus or any other place, this app comes as extremely convenient for the mere fact that is compatible with a wide array of books.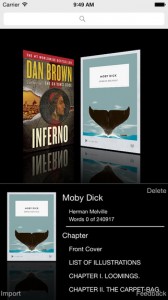 Features:
Easy Setup
The Wear Reader easily connects to an iOS device, Simply upload your favorite book to your iPhone and attach your Apple Watch, and see the magic happens. Everything synchronizes automatically. 
Smooth Operation
Once the app is downloaded and installed anyone can see the list of books available on the device as well as the subchapters. Once a title is selected the app automatically flashes content, enabling users to read each word in an easier manner, without having to follow the endless lines of text that can appear as daunting on a 2″ screen.
Portability and Synchronization
Wear Reader can be carried comfortably on an Apple Watch wherever desired. At the same time, this app stays in permanent communication with the iOS device in order to ensure that no recent data is lost. Users will be able to read newest books this way and discover a wide array of interesting facts which could be simply lost in the mass of text that is normally displayed on a small screen.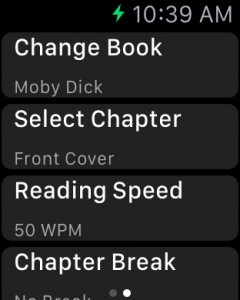 Text Rewind
In case user misses a word and wants to go back, this is entirely possible! In this case one has to scrub up and down to the certain word missed. Then, the Apple Watch will continue displaying the text from the selected point. The app also records bookmarks automatically so user can continue to read from where they left off.
Conclusion
Wear Reader is an app that must be considered by book enthusiasts. It contains some impressive features and it is compatible with Apple's newest invention, namely Apple Watch. The app enables reading on the go with Apple Watch device and displays text series at desired speed. Those who benefit from recent iOS devices and an Apple Watch should definitely aim towards this app, given that reading is a hobby. 
Price: $1.99
Rating: 4.5/5