During the process of growing up, learning the crucial skills like reading, writing and calculating are paramount for any child. These abilities, although taken for granted by many people, are the basis of successful early education. During this period, the children who master them without problem will be more likely to produce better results in their primary school. The same applies to the subsequent education, meaning high school and later on, even university.
If children master these skills without pressure and through fun activities, they are significantly more likely to accept their education as a good thing in their lives. Others, who learn it the hard way, often developed negative feelings about school and learning, and this fact will hamper them throughout their lives. Today, because of the modern technology, there are ways to help kids in this process of initial learning. a12 is an app developed for mobile devices and it can be immensely helpful as a learning tool.
a12 was produced by a company called Mlet whose developers are veterans in the field of application development. Their new app is present on the iTunes service, where it can be downloaded and used on the mobile devices produced by the Apple Company. The app requires iOS operating system version 6.1 or later. a12 is very versatile when it comes to device type, which means that it is compatible with the iPhone, the iPad, and the iPod touch. The company specially optimized their app for the very popular iPhone 5.
The app offers useful features which provide the parents with a way to teach their kids the basic 3R of education. These are reading, writing and arithmetic and kids can train those with the a12. The specialized writing feature allows them to use colors including green, black, blue, yellow and red to produce letters on the app's canvas with their fingers. By employing a sophisticated level of usability, the app lets even small children use it very efficiently. These writing features are great for the basis of letter recognition and letter reproduction. Any creating can be kept as a screenshot, or be cleared by the touch of a single button.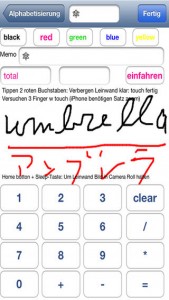 When it comes to the arithmetic skills, the a12 has a specialized memo finder which can store numerals that the user writes, and then should calculate them in their mind. The memo then can tell them if they produced the right or wrong answer. This is fantastic for kids who want to practice their math skills wherever they go. But the thing that makes this app a lot better than its competitors is its simple user interface and the broader clean visual design. While other apps often hamper usability with a demanding user interface, a12 has a great advantage of being easy to use.
Because of these multiple features, a12 is an excellent app for all those who wish to help their kids master their reading, writing and arithmetic abilities.
Price: $1.99
Rating: 4.5/5