I never tend to store my business contacts on my iPhone and thats until I saw this great app WorldCard Mobile. WorldCard Mobile is a business card reader cum business card scanner that uses an image recognition technology to scan the business card into the iPhone using its camera. The one word that comes in my mind – "The best of all business card readers apps".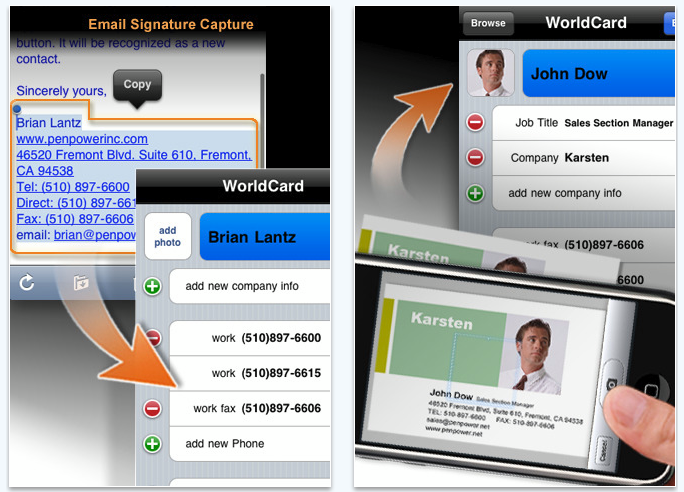 According to the iTunes description, the app developers says "First iOS 4.0/iPhone 4 supported business card reader". For me, I haven't tried the previous version of the app, but with the version the app works works flawless and does what I needs to do.
So what are the new updates in the latest version.
Automatic Camera Shake Reduction
Email Signature Capture
Improvement of Recognition Accuracy
Integrates with the WorldCard Contacts(sold separately)to make a call, send a text message or email, browse to the company website directly from their business cards image.
If you ask what how does the app works? My answer would be "Take a snap" the app takes care of everything to add contacts and literally it requires a few tweaking manually. The app has some cool features that I believe in creating the iPhone contacts simpler and mentioned below are the key features of the app.
Supports and recognizes seven different languages (English, German, French, Italian, Spanish, Dutch and Portuguese)
Recognize information on the saved business cards as images.
Merge data with your existing contacts in your iPhone
Sort scanned business cards into appropriate category automatically
Excellent image recognition technology.
Better image recognition even at low lights.
Shake resistant
Finally I think I found the perfect way to organize my business cards. This not only avoid preserving the bunch of cards, but rather helps me to stay in touch with my business contacts. Overall, everything looks and works great to satisfy every single cents in the $5.99. So lets join the revolution of managing your business card contacts using WorldCard Mobile.
Cost: $5.99
Rating: 4/5