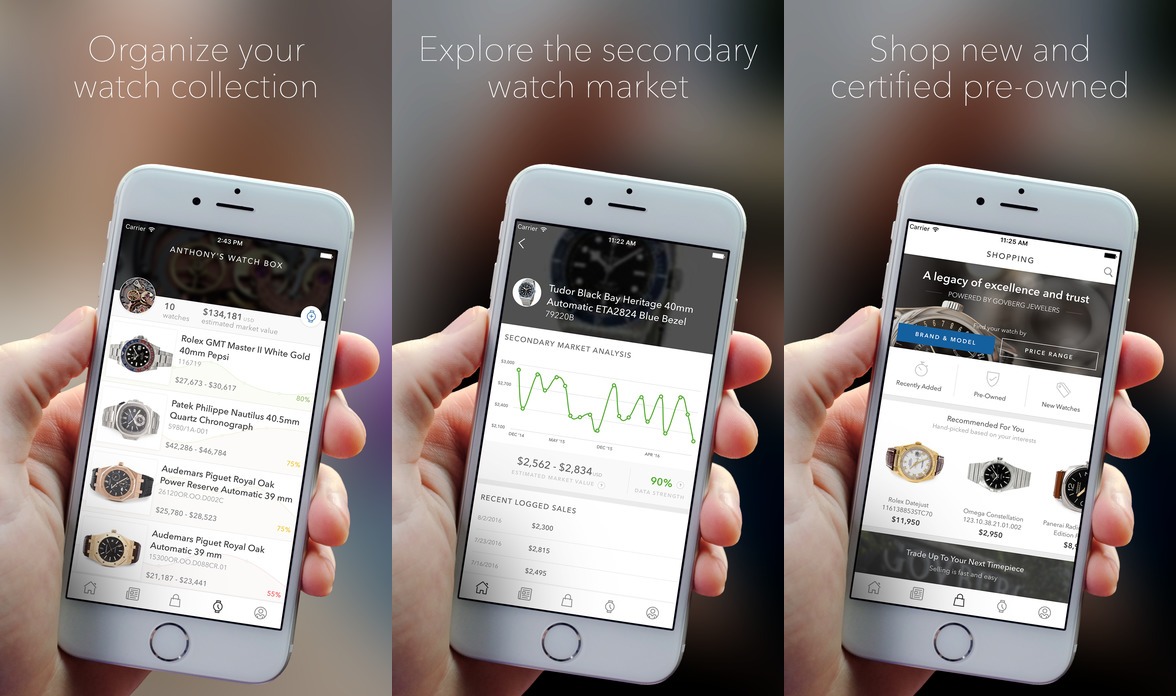 Apps that specialize on a specific niche often end up becoming more successful than other apps that don't. A topic as definitive as watch collection, for instance, is bound to be followed solely by watch enthusiasts. If an app was designed in such a way that it would cater to what they want, filled with features that they would readily look for, that alone provides an adequate gauge of its success. If there is one app that centers on watch collection that exemplifies these qualities, it would be Govberg OnTime.
It has to be noted, though, that Govberg is actually concerned more with luxury wristwatch collections. It seeks to help the owners of these watches manage their collection better. Additionally, if it so happens that wristwatch selling and buying is one their business endeavors, then they could also use this app as a good way to do this. After all, it also incorporates marketing tools for watch entrepreneurs.
That being said, this watch collection app is divided into 4 distinct parts, all of which highlight its major features. First is the 'My Watch Box' feature. It is practically where you build your own collection of wristwatches. With it, you can upload photos of your wristwatches and share any pertinent information (e.g. name, price range, features, history, etc.) about them. You may even store documents like records, warranty, appraisals, etc. The app takes the liberty to appraise the overall value of your watch collection as well, besides giving you the ability to easily share them with your contacts.
The 'Shop' section is where you need to go if you want to browse and purchase watches to grow your collection. The app offers its own collection of brand-new and certified pre-owned luxury watches courtesy of Govberg Jewelers. You are given filters (e.g. Recently Added, Pre-Owned, New Watches, Brand & Model, and Price Range) to customize and narrow down you search as well.
If, on the other hand, you intend to sell a watch or two from your collection, then you only need to tap 'Sell', and you may start submitting the watches that you've entered in your collection. Wristwatch experts would then proceed to appraise it, and you may freely sell it to them or ask for a quote. Rest assured that whether your watch is made by Omega, Cartier, Rolex, or Jaegar, to cite a few, as long as it's high-end, the app would always offer the best deals to you. You would even be given an in-depth market analysis as well as a history of your sales.
The last section is 'News & Notes' and, with it, you would always be in the know of the latest news regarding anything that involves watches. You would be provided with your own feed (a la social media) and these articles would be easily accessible from it. These articles mostly come from magazines like Haute Time, Watch Anish, iW Magazine, and Perpetuelle, among others.
Apps that center on watches in the same way that Govberg does are too few, to say the least. Watchville comes to mind, but it is only in the watch collection and news aspect that the two are related. It's for this reason why this app most assuredly doesn't have an equal yet, as of this writing. This also makes it very much a must-try, especially if you are a luxury wristwatch enthusiast or a budding watch dealer and trader.
Price: Free