Whether you are a small business owner or a sales professional on the go, your need to quickly and professionally share important documents has been solved. Black and White Scanner by Tipirneni Software LLC, is the perfect answer. You will absolutely love this scanning app to be used in conjunction with your iOS device. Your iPhone will help save you a lot of money in unnecessary equipment, phone lines, and additional online services.
Here's how it works. For only $2.99, you simply download the app using your iOS device. From there, you will be able to enjoy the seamless, inexpensive way to scan documents in black and white. The technology developed within this app will allow for the documents to be scanned flawlessly. You don't have to worry about shadows and other imperfections tainting the quality of the document. The documents will be sharp and very easy to read.
Once the files have been scanned, it's even more simple to transmit the documents. You can turn the documents into a convenient PDF file or keep it as an image. Based on the desired needs of your recipient, you will have the option to email the document as a single file or multi page file. It's truly an excellent app to be utilized on the smallest of iOS devices.
Here are additional features you can expect to discover when using this app:
* Easy to use zooming features and the ability to rotate the file to the desired angle
* Do away with unwanted content with a simple and easy to use cropping option
* The ability to set the document size to ensure professional delivery to include US Letter, Legal, and A4
* Exporting options that make since. The documents can be received as a PNG or PDF single or multi page file
* Exporting continues with email, the ability to copy your image, or save to your library of images
* Clear document transmission, even when the document is small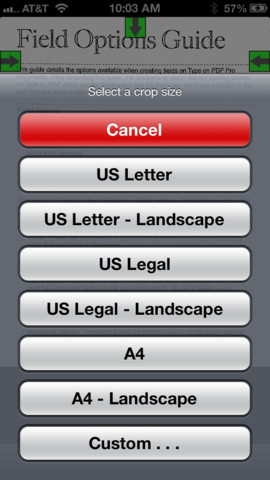 Regarding technical requirements, it's recommended to have an iOS device updated to version 6.0 or better. You will experience the best results when using an iPhone 5.
In the previous version of the app, there were a few bug issues. Rest assured, version 1.0.1 has corrected the very minor fixes.
App users just like you are raving about the quality of this download. Here's what they are saying:
* Scanning files to clients have been made easy with this app.
* I can't believe the quality of the scan when using my iPhone. Excellent development.
Price: $2.99
Rating: 4/5