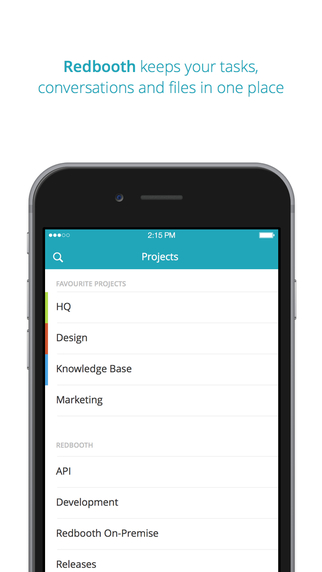 Project management software are all the buzz nowadays, due to the way that they are clearly revolutionizing the way teams can easily work together in any time or place. However, very few are actually able to serve as a sole place from which a team can work, chat, and share files. And, the app, which boasts of being able to provide all three and is truly worth highlighting, is none other than Redbooth. 
The app has a very pragmatic and intuitive design, to say the least, and really brandishes the developer's focus on giving users as much ease of use as possible. Going through each tab will pretty much guarantee that you will be kept up-to-date with your project's progress, share files, organize teams to complete tasks, and communicate with each teammate if the need arises. 
 The "Dashboard" tab displays the projects that you and your team are currently working on, including project updates, progress, and conversations. The "Tasks" tab displays all the tasks that are assigned to each member of your team, what they are about and the deadline that is given for them. The "HD Meeting" tab allows teammates to communicate face-to-face or share their screens in real-time while the "Chat" tab serves as a standard messaging platform through which members can send texts and share files. Lastly, the "Reporting" tab exhibits detailed charts and reports which give you an overview of how each task is going, your team's rate of activity, pending work, etc. 
Redbooth also offers support for such popular third-party storage applications as Dropbox and Google Drive, and users need only to drag and drop files from these platforms to start sharing them with their colleagues in Redbooth. These, undoubtedly, pretty much make up the online worker's basic arsenal, and their integration only serves to make this app stand out.
Furthermore, its addition of Apple Watch support is just the proverbial icing on the cake. Not only does it further boost the mobility advantages of the app, but it improves user convenience as well. After all, with this app, you can finally use your watch to easily find out your tasks for the day and be immediately kept up-to-date with work, anytime and anywhere. 
From the features said above, it becomes evident that what really sets Redbooth apart from other project management apps out there is its merging of the primary aspects of today's highly digitized, modern workplace, namely: file-sharing, live communication, and project management. Corporations, especially the fledgling ones, and other collaborative endeavors tend to rely on a specific, separate service or program for each of the said aspects, which is arguably a big hurdle in productivity and work performance. This is why the ultimate measure of this app's worth can be gauged on its removal of the said obstacle by serving as a platform through which teammates and co-workers can work in real-time and on the go, having everything that they'll ever need at arm's reach.
What makes things better is the fact that all new users who sign up at the app's main website, www.redbooth.com, are given a free trial. Don't worry, because they won't be asking you for a credit card. You can invite a maximum of 50 colleagues to try out the Redbooth experience for as long as a month (30 days, to be exact.) Knowing this, there is practically nothing stopping you from giving the app a try. Availing of the paid plans (Pro and On-Premise) has its perks for it removes the limits to the number of members you can add and unlocks other useful features, besides being comparatively cheap. For all you know, Redbooth could very well be that missing factor that your team, project, business, or other endeavors need to optimize their general work experience, organization and, more importantly, communication.
Price: Free
Rating: 4.5/5