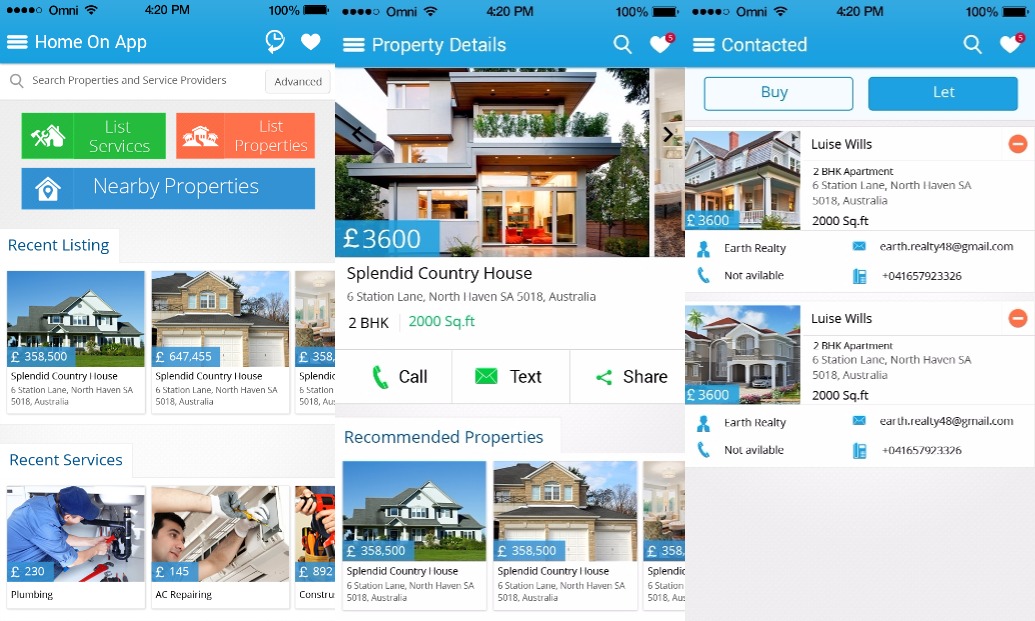 A beautiful, well-designed property app helping you in your job-seeking journey. This app helps you connect with property owners, agencies and for seeking services providers. Overall, it has a great design, very good color chooses, business blue and friendly green with an overall light theme to it, this app has a great theme to it and also the logo it's very well on point.
As soon as you open the app you are prompted to a simple, easy to use the login screen in which you need to introduce your email address and your password. If you don't have an account the cool part is you can log in with your Facebook id which is super cool because usually takes some time to sign up, but in this case, the app doesn't require too much information, just first and last name, email and password. Has also a cool feature if you forgot your password.
Once you enter your credentials, you will have two options. One is to search for properties and another to search for services. Let's review each of them and see what we got. When on the service provider panel you have to introduce your mobile phone number, the initials are 44 for UK users, a description of your services, your hourly rate and the skills you have, such as construction, sales, electrician and other. It's a great job seeking experience. Unfortunately, if you want to get the latest job you will have to pay for this service. Luckily it costs the minimum of 1 pound per month, so it's very affordable.
Next great feature of this awesome app is the ability to sell or let property. You have different options for this such as an apartment, commercial building or detached house. You just need to add the property address and you're good to go. Oh, this is probably the best feature this app has to offer is the tracking of your current location to make much easier and also for a rich user experience. When selecting the address you are prompted to choose the country, after this you will get the "states", or regions of each country, this is a fantastic feature itself makes it very accessible to list your property. A great advantage it forces you to have pictures of your property, this is good for future attendees who want to let it. You can be the owner or agency for this feature as well. Would be great to remember your phone number after introducing it once.
With this we conclude our review of Home On App, a great app, definitely, recommend and we wish you good luck finding the best service providers and properties out there.
Price: Free