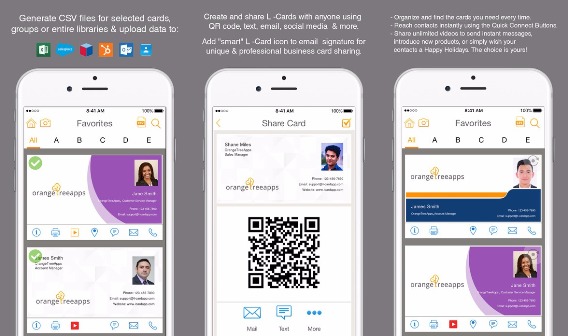 L-Card Pro makes networking much easier by taking paper out of the equation. It creates electronic business cards instantly. These include both yours and of your contacts through the app's scanner that reads and saves them immediately on to your device.
That is simply the beginning OrangeTreeApps thought of everything when they were developing it. Once saved you can easily sync your contacts with your CRM tools. You can also reach your contacts directly through their card pages and include your business card as an attachment to all your emails. Best of all you can include brief videos in all of the business cards you send.
How does L-Card Pro work?
For business card creation the app has 80+ professional templates you can choose from making it easy to create your business cards. You can also edit them whenever you need to change your contact information.
To save new contacts the app uses Optical Character Recognition (OCR) scanning technology to read both paper and digital business cards. You can also receive and send business cards electronically through email, text or social media. L-Card Pro also allows you to attach your business cards to all your emails. It also allows for easy CRM. You simply create CSV files and transfer the data to excel. You can then upload the data to all your CRM tools.
Features
* Card creator that allows you to create unlimited business cards
* 80+ free business card templates for you to choose from
* OCR that scans and converts paper cards to L-Cards
* L-Card Pro's reader recognizes up to 10+ languages i.e. English, French, German, Italian, Spanish, Swedish, Danish, Dutch, Finnish, Norwegian, Portuguese and Brazilian Portuguese
* Easy L-Card editing by simply changing the details on your card
* Automatic updates for all the L-Cards you have shared once you edit your business card
* Video attachments, you can include up to 30 second long videos to your business cards
* Share and receive business cards online via text, email and social media using L-Card's QR code scanner
* You can make notes on the back of business card to help you remember special information
* Syncs easily with your CRM tools such as Google contacts, Outlook, HubSpot, Salesforce and SugarCRM
* You can categorize your business cards
* You can reach your contacts right from their L-Card Page i.e. text, call or email
* Access your contact's websites through their business cards
* Add business card contacts to contact lists on your smaller devices like cell phones
* L-Card's email attachment button lets you attach your business card to your emails
* You can easily print your business card or any of your saved contacts
* With a Tablet you can list business cards of your choice at business events so that other participants can scan them
What makes L-Card Pro the best networking app?
Obviously it's the numerous features that it has meeting just about every need you can think of. Really, we dare you to think of 3 needs that this app can't meet for you. That being said we will still tell you why we think that you need to download L-Card Pro before your next business event.
Its OCR capabilities will help you save all your acquaintances contacts rather than losing the handful you always do with manual business cards

The video attachment gives you an opportunity to make a 30 second pitch every time you share your business card with potential clients

The app helps you sync your new contacts with your CRM tools effortlessly

The fact that you can reach your contacts directly via their business cards helps you quickly send follow up emails. You can also attach your business card to the emails to help them remember you!
There is not much else that we can say about the app. It basically just sells itself. I mean a free business card creator with 80+ free templates plus a multilingual OCR reader that. What's not to love! You should definitely download L-Card Pro for free!!
L-Card Pro is also available for the Android devices on the Google Play Store.
Price: Free