At only $1.99 for a single download, if you are looking for an easy, user friendly iPhone app to help with managing your finances, you will love the Yomaney app by Omer Tamir. This app brings everything you can imagine to keep you in excellent financial health.
In the most recent version update, new and fresh navigation menus have been added. You will also be able to see new transactions. The newer version also keeps you abreast of future transactions, reoccurring transactions, along with unpaid bills. You also have the capability to remove unused or blank bank accounts. There's no need for useless data and it will no longer crowd your app.
You will also love the easily viewed screens. After going through the very easy log in process, you will have the option to update your expenses. It's color coded with unpaid bills in red and income and positive balances in green. This makes for easy, quick at a glance viewing of your finances. You're also given an update on payments due for the current week. This is an amazing feature of the app to keep you in check on a week to week basis.
This app is perfect for anyone to include but not limited to students, families, business professionals, or anyone interested in managing their money.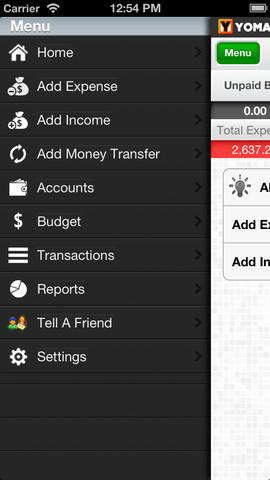 Yomaney has amazing features to include:
* Easy log in
* Capability to monitor your spending trends from the palm of your hand
* Easily sync your financial data across all your different devices
* Several alerts to include those alerts regarding unpaid bills
* Gain control of your budget
* Real time knowledge of how and where you are spending your money
Pros:
* I love the ease of use and the alerts!
* I appreciate the color coding. I know what is good money and what I have to spend at a glance.
* It's so easy to financial information!
Cons:
* If only I could pay my bills directly from the app too.
Price: $1.99
Rating: 4/5