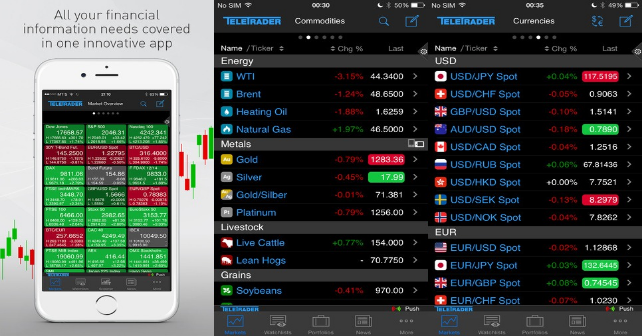 Stock market trends can be highly unpredictable, thus, the great need for consistent tracking of real—time movements and news. This is all the more true if your investments in the stock market are larger than the usual, more casual players. A stock's price could climb or fall any second, and each time you delay a decision, it could cause you to lose a significant amount or miss a major opportunity to make large gains.
This is why if you're a hardcore stock market player, it's only apt that you should rely on stock market apps that can really deliver everything that you need. StockMarkets is one such app that stands out from its competitors due to its array of features that focus on giving to users what they really look for every time they check their investments in the stock market. It doesn't just give a summative view of your stock market investments, but also provides those tidbits of detailed, related information necessary to make wise decisions in investing and trading.
For instance, using its real—time data search feature, you can scour the expansive data universe that makes up the world of stock trading. From live quotes and news from around the world that could affect the price movements to searching for individual symbols, the stock market would be presented before you as a whole in a manner that is convenient and quick.
A general overview of information that you need on hand like markets, currencies, interest rates, and high—performing stocks, to name a few, will immediately be available to you upon starting the app. Each symbol that represents stocks, currencies, commodities, and other needed data will be displayed in great detail as well. You can even view symbols from different markets as well as browse through various company profiles and get news on the stocks that they are offering.
Practically every aspect of stock markets from around the world will be covered. From the fundamental ones like Nasdaq and Dow Jones to EuroStoxx 60 and Nikkei, to name a few. This also includes currency pairs, commodities markets, interest rates, bonds, CFDs, the most up to date financial news, and even real—time data from Te|eTrader Terminal accounts (if you have them).
Price movements can be tracked in real-tme as well, which is displayed in wide, easy—to—view charts. You can choose how you want them to be presented (in Line charts or OHLC Bars, for instance). And, you can set the time frames for each chart whether it be Daily, Weekly, Monthly, etc. The data can be scaled further in either a linear manner or presented in percentages and logarithms. For easy viewing, you can also makes use of the zoom and crosshair features. You can choose from a variety of chart templates and compare specific securities with their corresponding benchmark. StockMarkets also offers support for major indicators like Moving Average, True Range, Money Flow Index, Highest High, Lowest Low, Momentum, and pretty much all the well-known indicators at present.
Every trader would love the real-time notifications that this app has. With it, you will promptly be sent an alert on price movements through Apple Push, which sends them automatically to your home screen. You can be freely set the price limit for which the alert would be set, making it all the more handy. You can even choose to receive real—time alerts via email (besides daily notifications) and text messages.
Equally better is the fact that the app allows you to create your own portfolio. You can even use your Google or Yahoo account to import portfolios that you already have in Google Finance and Yahoo Finance, respectively. With it, you'll always be in the know of your losses and gains, as well as get a comprehensive list of your starting capital, set the currency for your portfolio, add or remove symbols that is complemented by simulated trading, and keep track of miscellaneous data such as deposits, fees, and redemptions. What's good is that your portfolio can be easily shared across other stock market apps in the iPad.
Besides portfolios, you are also able to create your own price watchlists to easily monitor your investments and other assets. Prices are updated in real-time and can be viewed in a number of specific view types such Chart View and Performance View, besides a host other options. Other accessories that you can use are the stock screener and the currency converter. With the former, you can essentially make better decisions in your stock investments, as it is able to filter stocks according to their performance, besides being able to set them apart based on essential data like net income, turnover, EBIT & EBITDA, and market cap.
Lastly, StockMarkets' compatibility with the Apple Watch only serves to highlight its user-responsiveness and mobility. Not a lot of other apps in iPad that deal with the stock market can boast of providing such a definitive collection of stock market tools, and this is certainly what makes StockMarkets a must-have for players who settle for nothing less than minimal losses and maximum gains in their investments and trades.
Price: Free