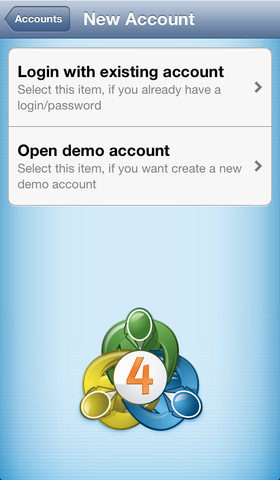 If you were looking for away to keep a close eye on the market from the palm of your hand or your smart device, then MetaTrader 4 by MetaQuotes Software Corp is what you need.
Boasting a rating over 4 stars, this stunning application delivers real time market prices right to your iPhone, iPad, completely free of charge. That's right, you have a "right now" pulse on the market and it costs you nothing.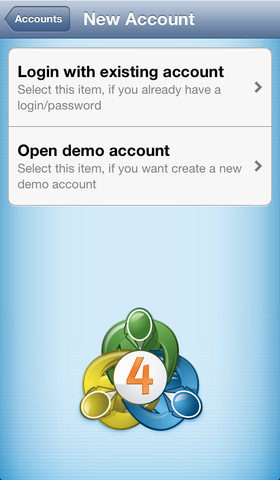 There are over 1,400 brokerage firms taking advantage of this application's platform. It's really simple. This app affords you the control over your market accounts in the way you have desired. You will have the ability to trade within the competitive financial markets, utilize several indicators to help you knowledgeably analyze the market, and you will have the convenience of all your financial news delivered directly to your smart device in the form of emails. This app have been developed with brilliance and is truly a traders dream.
The features developed within this app are unmatched and you should expect the highest capabilities to include:
* Up to the minute, real time quotes from the market
* Complete knowledge of trade order to include pending orders as well
* iPad trading directly on the charts
* Endless support for all trade modes to be successfully executed
* Keep access to past trades
This app also holds exceptional technical features, which trading aficionados will appreciate.
* High resolution graphics
* Up to 4 charts displaying financial information all at once (this works only on the iPad at this time)
* Quotes charts allowing for full customization as you see fit (moving bars, volumes, grids, etc.)
* Over 30 indicators with the ability to customize the various graphical settings
* 9 different time frames along with 3 types of charts to include bars, line, and candlesticks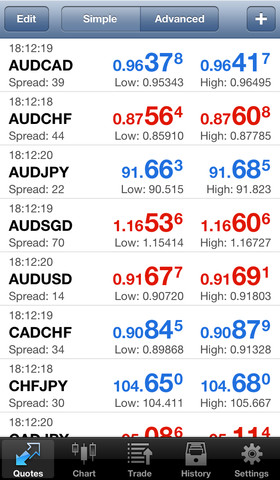 There is no need to worry if you are new to trading or if you are a market expert. The app is completely user friendly, perfectly designed for even the most novice trader. You will enjoy the convenience of the toolbox, which conveniently displays all things you need for successful trading. This includes financial news, order history, current order display, emails, and other relevant financial information. There are also offline features with this app to include market quotes and charts.
In the latest version 4.0.501, the iPhone 5 is fully supported. You can also expect full support of the iPad, iPad 2, the Retina screen, and the iPad mini. If you are still using an iPhone older than the 3GS, unfortunately, you will not be able to enjoy the perks of trading at your convenience with this app. It's definitely time for an upgrade to keep you in line with the market and real time trading capabilities.
Price: Free
Rating: 4/5